Boreas, the rowing club for students from Zwolle, will soon come out with a nude calendar. One with a message. Because: "With us, everyone gets the space to be themselves."
A long-term project, because the definitive idea of this nude calendar came about last December during a dinner party of the association. Aksel Scholtens (25), one of the initiators: "Many rowing clubs have a calendar. The idea arose from the example of the British rowing club Warwick Rowers, which publishes a calendar with worldwide circulation every year."
But Boreas wanted something different. Not one with pictures just for fun, but one with a purpose and message. So that everyone gets the space to be themselves and feel safe. "Inclusiveness should be natural these days. Dare to expose yourself figuratively and literally, regardless of what you look like. Because everyone is welcome with us. With this calendar, we distinguish ourselves by not only showing well-trained, muscular men and women. The name? Boreas Uncovered."
Body positivity
In other words: a body positivity statement. The association placed an appeal in the group chat, and the reactions were mixed. Some are immediately enthusiastic, the other has a great deal of doubt about posing nude. Because: will they look good? It will eventually hang in every student's home.
Esmee Rozendal (22), second-year student Nursing at Windesheim, did not hesitate when she saw the call and immediately signs up. "It was an impulsive 'yes'. I'm not someone who has a problem with being naked. Although of course I had to take off my clothes in front of people from the association I had joined just three months earlier. To see them immediately exposed… The story behind it made me enthusiastic enough to participate in this."
Safe environment
The photos were taken during three shooting days, in which everything was arranged as safely as possible for everyone present. Aksel: "The only picture that was allowed to be taken during those days was that by the photographer. Cell phones off, no photos in between that can be shared. That is why we do not share our photos with the WIN, for example, for this article. If you want to see something, you really have to buy the calendar."
Aksel: "And – also important – watch your language. The moment the clothes went off, someone stood ready with the bathrobes, and we made sure that no crazy comments were made. Of course there was fun, but it was safe."
Esmee agrees. "The first time I went there it was very cold. Only at that moment I thought: what am I doing? Clear rules were made at the beginning, which made me feel very comfortable."
For example, a confidential counselor is present during the shoot days, everyone has approved his or her own photo and everyone has to sign a contract. "To give the students certainty that the photos will only be used in the calendar, and will not be shared anywhere else."
Everyone is a model
Only for the calendar, which has to break through the average image of the 'standard' nude calendar. Aksel: "We hope for recognition from people. That through us they can look at a calendar with normal people and think: 'hey, I'm normal too'. Something that should already be quite normal, but unfortunately still isn't."
"I think it's important that everyone is comfortable in their own skin, regardless of what they look like," says Esmee. "The topics of body positivity and inclusivity are also increasingly emerging in the news. Especially because of the mental state of people. Because those with a size bigger, stretch marks or, for example, vitiligo, can also be models. The perfect picture of long hair and super skinny is no longer of today."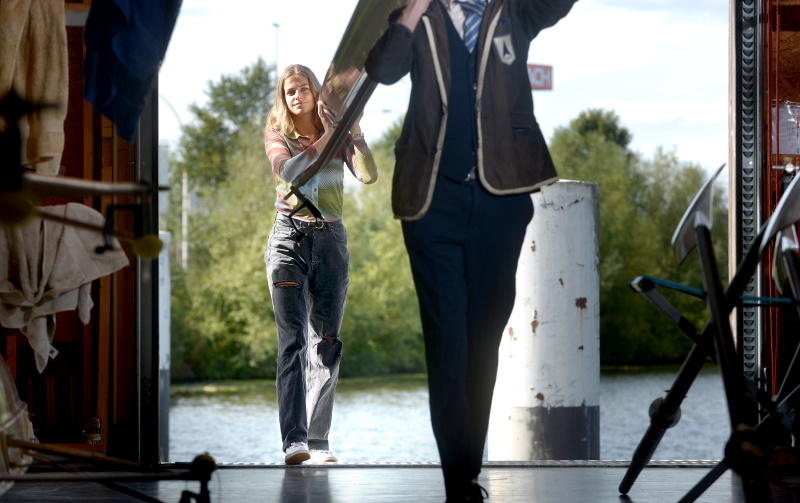 "When I saw the photos I thought: should I give permission, should this be posted? But I fit perfectly with all the other girls on the calendar. I am not alone, and all bodies are different. At the start of the shoot you look at each other for a while. No comments were made, not even positive ones, so that no one could feel disadvantaged. But you could feel the pride that predominated: we are doing this together. I hope that the people who buy it or see it hanging at someone else's will also think: I could be on such a calendar. You are allowed to show yourself, with or without clothes."
In the bathroom
Esmee does have to giggle a little when she sees the photos the first time. "I thought it was very special. Of course you've seen yourself in photos before, but never in such a way. Although I was very happy with the first images right away." "I still live at home, so the calendar will hang there in my room. Downstairs we have a ' modest visit calendar'. A clothed version, with flowers. But when I move out, it will of course go in the bathroom. My grandfathers and grandmothers also want to order the nude calendar. They all think it's very special."
Tekst: Michelle van der Molen
Photos: Jasper van Overbeek
The proceeds of 'Boreas Uncovered' partly go to the Elfsteden-rowing marathon boat of the association. The other part goes to Intermezzo Zwolle, a house that offers aftercare to (relatives of) people with cancer. The calendar will be published on November 18, and will cost 20 euros. It can be ordered via the Boreas website.