Mina van der Sluis (25)
First-year Teacher Education in History student
Bare legs! Isn't that cold now?
"I can't handle winter clothes. When I see people in different layers of clothing, I think to myself: why don't you melt? It's still under investigation, but medically I can't sweat. I love being cold and always look forward to autumn and winter."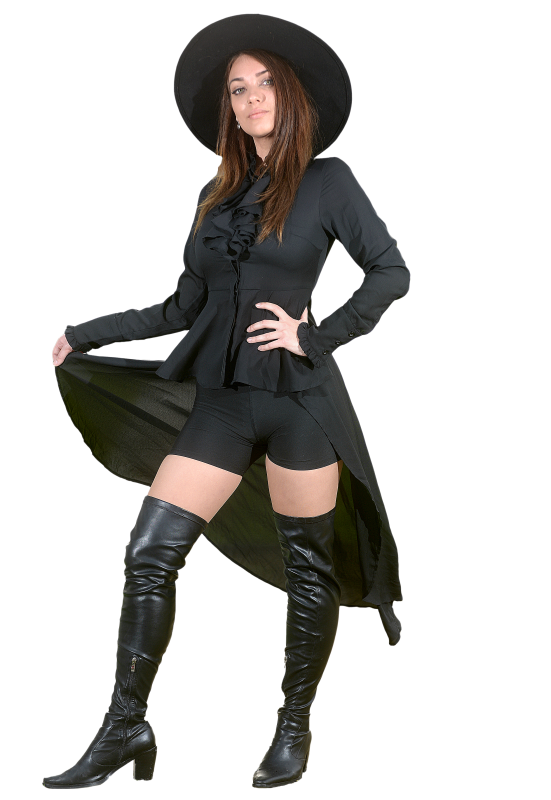 How would you describe your clothing style?
"Dark aesthetic, Victorian and combined with streetwear. As long as it's dark. Everyone in my family has an alternative clothing style. I was four when I saw the band Within Temptation performing during the Liberation Festival. That was so magical for me: all those people who dress differently than others. From then on it became a kind of obsession for me."
Your cape, which style does it belong to?
"It's Victorian Edwardian inspired. As a child, I already thought vampires were cool. I am even named after Wilhelmina from Dracula, the novel by Bram Stoker. The cape is kind of a tribute to my name. Preferably together with the hat, which I wear on days when there is no wind. Which is quite difficult in the Netherlands."
Do you ever get comments from strangers?
"Regularly. 'Which funeral are you going to?' or 'It's not October 31 anymore, you know.' But for me it's Halloween 365 days a year. I like to watch horror movies, have Halloween decorations in my room and you can always see it in my outfits. It makes me very happy, and that's what matters. Clothing is a portable home: a place where you feel safe. Even though people sometimes find my clothing a bit dramatic, it's much better to be yourself."
Text: Michelle van der Molen
Photo: Jasper van Overbeek