With growth to four thousand students, Windesheim in Almere will be faced with a new challenge. A conversation with director Kees Stolwijk.
In Almere, it is easy to get in contact with people. The students are streetwise and always enthusiastic. That is what Windesheim teachers say about the location in the polder. "Yes, Almere is young and spirited and has a completely different dynamic than old cities like Zwolle and Amsterdam, here the structures aren't as ingrained yet.", says Kees Stolwijk (55), director of Windesheim Almere since January.
He experienced the success story of the new Windesheim location from up close since the beginning. Since 2011 he has been a member of the management team, first as a cluster manager of the Economics study programmes and later of the ICT & Engineering study programmes.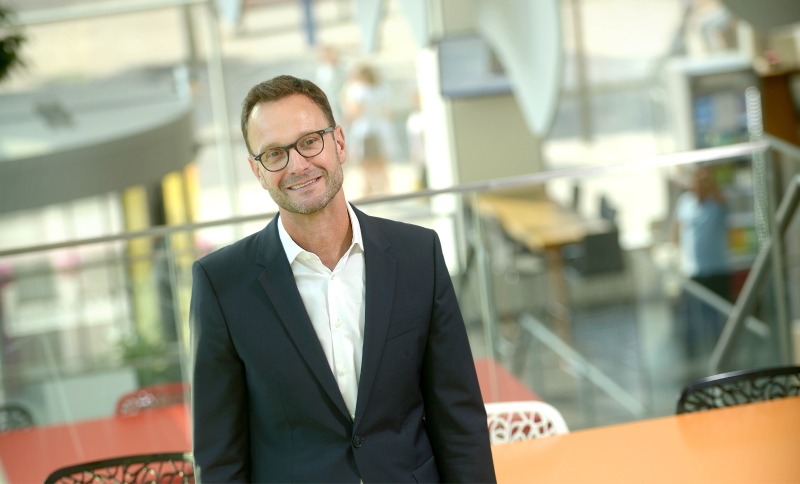 Ten years ago, it wasn't certain whether a new location in Almere would be viable. A few years ago, it became clear that the growth would exceed expectations. In 2019, there is a Windesheim location with thirty study programmes.
"The campus in the heart of Almere attracts new target groups and seems to be a great asset for the city. "We don't only get students who otherwise would've gone to Amsterdam or Diemen, but also young people who don't want to go to the big city or follow a study programme outside the province." Almere has a population with many cultural backgrounds. "Windesheim contributes to the inclusive society, through educating talented youth from Almere and keeping them here and contributing to the employment opportunities.", says Stolwijk, who studied economics in Amsterdam and recently added an MBA degree to it.
'We don't want to be scattered throughout the city'
According to the latest registration prognosis, the location will grow above four thousand students for the first time. The division is now just as big as the other divisions in Windesheim. With that, another milestone will also be reached soon: the location can stand on its own sooner than expected. The early-stage financing agreement, which was finalised with different administrations and would continue up till 2026, will likely be terminated on the 1st of January 2020. Windesheim Flevoland will be introduced as a regular division within the budget of Windesheim.
Buzzwords within Almere have been 'co-makership' and 'community' for years: students are mostly educated in the working field and there's a big feeling of co-operation and solidarity. "Students want to know each other and be known. That is often the reason why they choose Windesheim. It is easier to reach at a smaller university for applied sciences than at a big one. Even with further growth, we strive to keep that feeling of solidarity." He refers to the big question for the future: is there room for a new large main building in the centre of Almere? "If so, that would be great. One main building with a branch office is also an option, but we absolutely don't want to be scattered throughout the city."
The last couple of years Windesheim Almere expanded from De Landdrost to a part of the Library and of the Baken Stad college. After the next academic year, further expansion will probably be needed. Currently, there are talks about a temporary location in the centre of Almere (read more about the new location here).
In the background, there is being brainstormed with the municipality about the most preferable future situation: a new main building with space for more than five thousand students. "We have drafted a vision paper with our teachers (titled: 'A new spin'), with our requests for such a building. Keywords are sustainability, flexibility and adaptability. The preference of both Windesheim and the municipality of Almere goes towards the preservation of the city campus. It would be great if we could share our main building with other users from the city, like local societies who could go there during the evenings."
Are there any more challenges for Windesheim Flevoland? Stolwijk: "The region had received the task from the government to build a large number of houses. I would like it if our study programmes and professorships would jump at the opportunity and let students think about new construction and housing forms."
With Almere as a student city, things will be fine, according to Stolwijk. "That is going in the right direction very fast. New student activities keep arriving and the student associations keep growing. The terraces on the Grote Markt are filled with students. Last week, Windesheim organised the Fééstival on the Stadhuisplein, the conclusion of the introduction week which had thousands of visitors."
Text: Ernest Mettes
Photo's: Jasper van Overbeek