Just before the Christmas holidays, Minister of Education Robbert Dijkgraaf summoned universities of applied sciences and universities to stop actively recruiting foreign students for the time being. What impact does this have for international Windesheim study programmes?
According to national politicians, the growing influx of foreign students is currently having more negative than positive effects. This mainly concerns the high workload of teachers and pressure on the housing market.
Due to a motion from the House of Representatives, Dutch educational institutions this year are not allowed to recruit new international students until the minister comes up with a new plan.
But this measure came completely unexpectedly at the universities. And the seriousness of the problem mentioned does not play a role, or to a much lesser extent, at Windesheim.
Windesheim's international full-time study programmes in Global Project and Change Management (GPCM) and International Business (IB) are the victims.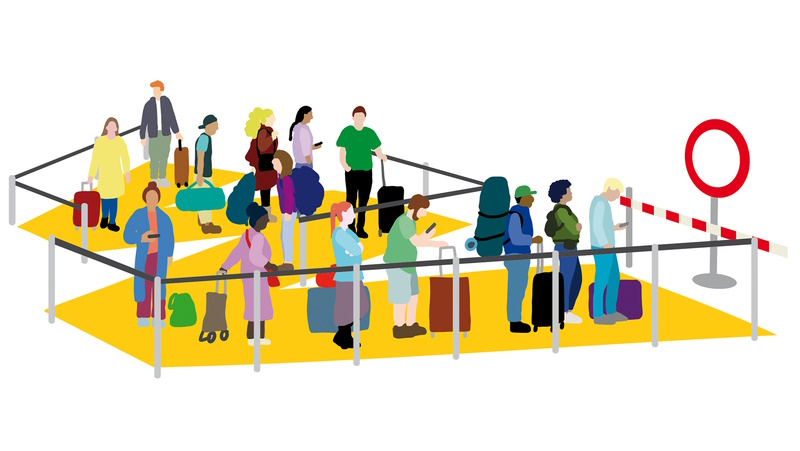 Culture mix ís the curriculum
"I am surprised that the minister, who also has an education background, complied so quickly with the wishes of the chamber," says Derk Jan Kiewiet, manager of the international full-time study programmes.
"Internationalization is important for the development of people. You don't necessarily have to go abroad for that; with an international classroom you can also attract foreign influences. It is good that we started doing this in the Netherlands, but in recent years the focus has been more on recruiting foreign students who generate money, and less thought has been given to the consequences of bringing in those students if you look at the quality of the education and housing of those students."
During the recruitment freeze, no distinction is made between exchange students who stay here for a short period of three to six months and foreign students who choose to study full-time. And for the time being no distinction is made between field and type of study programme, something that director Kiewiet is also very surprised by.
"Internationalization ís our curriculum: all courses are taught from an international perspective. That is very different from a university Psychology study programme that is taught in English in order to attract foreign students. So I would have liked the minister to at least make a distinction between study programmes that are inherently internationally oriented and study programmes in which English only serves as an instrument.
"Less cultural interaction would be a shame"
Sports science student Nick Buren, chairman of the Erasmus Student Network Zwolle (formerly SUN), is also disappointed by the decision.
"I would like to offer a second home to internationals who study in Zwolle for a long or short period of time. By being in contact with other cultures, we learn to respect and understand each other better worldwide.
If there are fewer internationals, students will have much less cultural interaction with each other, which I think would be a great shame.
Last semester we had a buddy within our network who studied International Business. Next semester someone studying Global Project and Change Management. Those students are very important to us because international students who study here learn best from each other."
Depending on scholarships
In the International Business study programme, 10 to 15% of students come from abroad, and more than 60% in Global Project and Change Management. A large proportion of these international students are normally recruited through educational fairs abroad.
International recruiter Erna Balk regularly travels through Europe for her work to represent Windesheim, but also to provide students with good information about studying in Zwolle:
"I happened to have two international fairs planned this spring, in Budapest and Riga, and those I had to cancel abruptly on Christmas Eve. That is very annoying because all the preparations had already been done: the plane tickets had already been bought and the fairs had already been paid.
The great thing about international education fairs is that you speak to students personally. If my trip to Riga continues, a student who also comes from Riga will join me. This way she can tell other students what it's like to move from Riga to Zwolle.
You want to give students the complete picture before they come here, and not that they quit because they have overlooked certain parts. When recruiting online, you miss that personal contact."
"I had to cancel the planned fairs on Christmas Eve"
Erna has no worries if the measure remains in force in its current form, although her work may change.
"Study programmes that prepare their students for an international field of work can best do this by having international students within the study programme itself, so that Dutch students also get all kinds of different experiences, cultures and working methods: that goal remains intact. If it will become harder to recruit abroad, you will have to throw more money and creativity at it to achieve the same goal."
Director Derk Jan Kiewiet also finds the measure annoying at the moment, but he is not worried about the existence of his study programmes for the time being.
"The cancellation of a number of fairs means that Windesheim is already less visible at the moment. This could have consequences for the registrations for the coming academic year.
In the case of the Global Project and Change Management study programme, in particular, the impact of a possible drop in registrations will be greater if there are fewer international students, because this makes it less possible to guarantee the starting point of an international classroom. Ultimately, this can be at the expense of the quality of education.
But I still hope that the minister will come to an understanding and add more nuance to his plans. If not, we will have to act on it. I certainly trust in the creativity and flexibility of our recruiters, but other ways of recruiting take up more time and energy that could have been spent elsewhere. And the question is whether we will get the desired effect."
Text: Reinhilde van Aalderen
Illustration: Judy Ballast