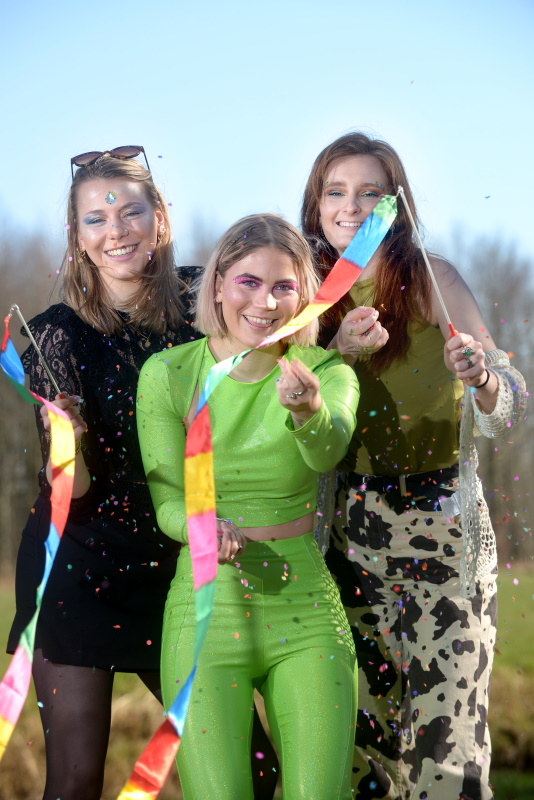 The festival season starts. Thé moment to go all out with outfits and makeup. Students Jitske, Eline and Anika can't wait and came to the WIN makeup studio to get festival-proof.
Anika: 'In a fairy costume around the campfire'
First-year student Social Work Anika (21) loves festivals where she can go all out; like the fantasy festivals Elfia or Castlefest that take place in castle gardens, for which she wears special fairy costumes, to Graspop Metal in Desselen, Belgium, where she lets loose on hard rock music.
A while ago, she heard good stories about Liquicity, a drum & bass festival near Alkmaar. She was supposed to go for the first time last summer, but COVID-19 threw a spanner in the works and the festival got postponed a year. That's why she can't wait to finally let loose again.
Anticipation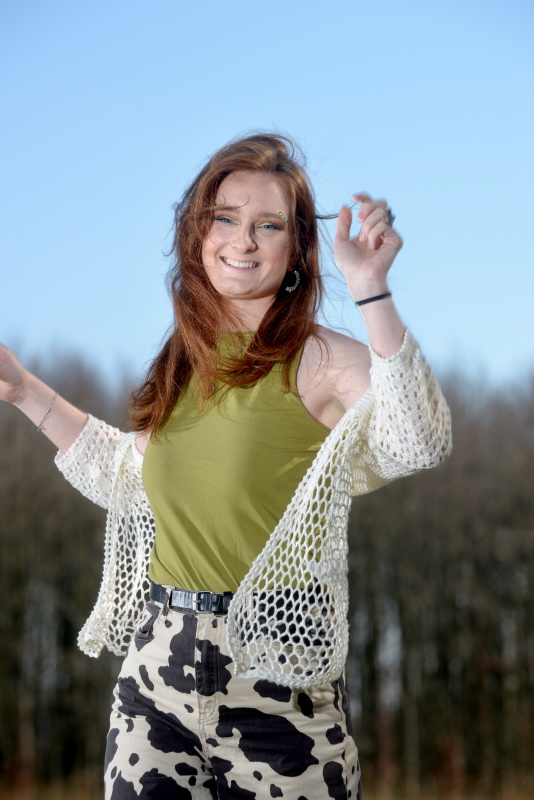 "I love picking out my rave-outfits weeks in advance. Especially at fantasy festivals, the anticipation towards the festival is just as much fun as the event itself. I save money all year through to go to festivals. I'm quite a creative person and a festival outfit becomes an entire project. Far in advance, I decide how I want to look at the festival, I buy beautiful fabrics and makeup, and then get to work. I make all my outfits or costumes myself or get them from second-hand stores. Wigs I order online."
Music in combination with freedom and fun is, according to Anika, what makes a festival so cool to go to. "Sitting around a campfire in a fairy costume at night after the performances, and talk about whatever with complete strangers is what I love to do. The people make the vibe and you always experience something. My most special festival experience was when we camped on a festival site during an incredibly hot summer. After a night of raving, my friends and I had accidentally left a jar of chocolate spread outside. The next morning we drank that stuff like chocolate milk at breakfast."
Eline: 'I found the love of my life at Lowlands'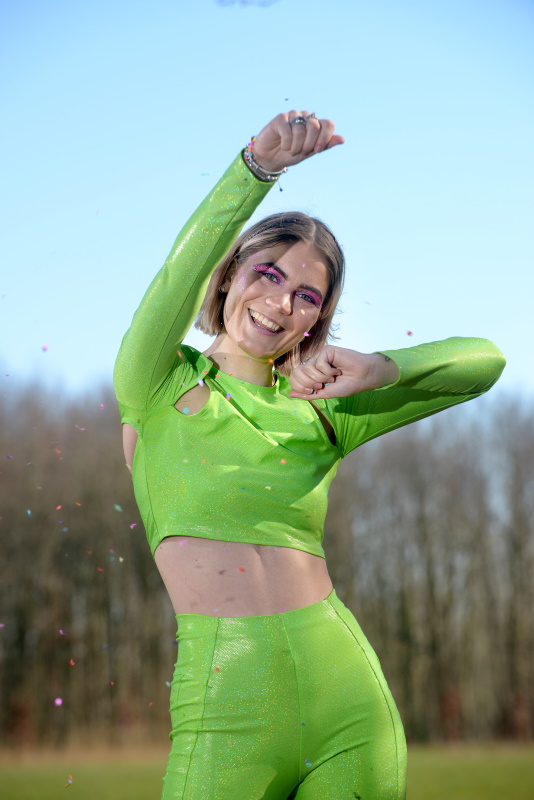 Eline van der Wal (21) is a fourth-year Journalism student and became acquitted with the festival-scene from her student days. She loves R&B and hip-hop, and is going to go to Lowlands in Biddinghuizen and hip-hop festival WOO-HAH! in Amsterdam this summer. Both are postponed editions due to COVID-19. She likes discovering new artists even more. Music, festivals and concerts are a very important part of her life, which scream for glitter outfits.
"My wardrobe is already full of glitter, but at a festival I go even more over the top with my outfits and makeup. Music is a fun but expensive hobby, so I put time and money aside for that, and because nothing happened in the past two years, I had the chance to save a lot. I buy a lot second-hand, but I also scour the internet for glitter items."
The right combination
Eline puts a lot of effort and time in preparation. "For multi-day festivals I try on all outfits at home in front of the mirror. It could take hours, sometimes days before I find the right combinations."
What would be considered crazy in society, is completely normal at a festival according to Eline. "Nobody cares what you do or how you look. Besides, I like meeting new people and chatting with strangers. There's always a good atmosphere at a festival which makes it easier to make connections. A festival is somewhat like a small village; you're never alone."
Music and the festival atmosphere are, according to Eline, the most beautiful thing there is. My most special festival experience was years ago, in the golden circle at Lowlands. Everyone was in a trance because of the music, beautiful lights and confetti. I had always said that I would find the love of my life at Lowlands. That dream came true, because I had my first kiss with my boyfriend at Lowlands."
Jitske: 'Dance amongst people from all over Europe'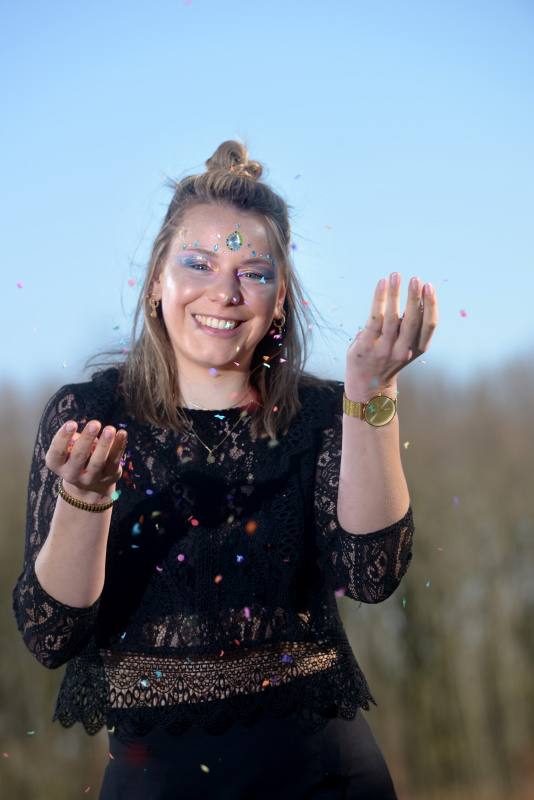 Even though fifth-year student Sport Studies Jitske (21) is modest in wearing makeup in her daily life, she finds it amazing to go all out at festivals. Her taste in music is very broad and therefore she likes to go to an as diverse a festival as possible; from pop, techno and dance to Dutch music. "Going to Amsterdam Dance Event and listening to techno music one weekend, and singing along to Dutch music in Spaarnwoude the other." This year, Jitske is going across the border for the ultimate festival experience, she's going to Sziget festival in Hungary.
"I think the journey towards Sziget will be incredibly beautiful. It is in a completely different environment, a different culture. You won't only be dancing amongst Dutch citizens, but amongst people from all over Europe and maybe from even further away. I think it would be an amazing experience to also be able to admire people from different cultures with different dance styles and outfits at the festival."
Planning suffices
Sgizet takes up 3 days in Jitske's agenda and according to Jitske, the preparations are mainly of practical nature.
"You have to find friends who want to go there too, put your agendas next to each other, choose dates, and arrange transportation. The hardest part of the preparations for a busy festival are acquiring the tickets. Getting these on time is sometimes a bit of a hassle.
Jitske also thinks practically in terms of outfits and makeup: her favorite festival outfit is festive, graceful and comfortable. "I take the weather forecast as much into account as possible. A summer outfit is the easiest, but if it's a bit colder or there is rain forecasted, a little bit more preparation is necessary. I think it's fun to spend time on festival makeup, but a complete metamorphosis is not for me. I want to remain recognizable as myself.
Jitske's most special festival experience was at a performance by Snollebollekes, where she stood in the middle of the crowd. "Everyone grabbed each other by the shoulder, row after row, and jumped as far as possible 'from left to right'. There was no one who didn't participate."
What's new in festival makeup?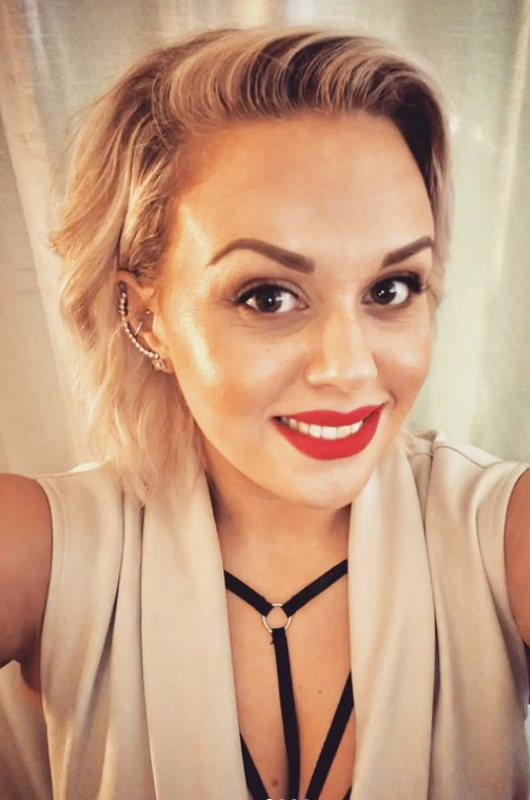 The festival makeup of Anika, Eline and Jitske was done by makeup artist Susanna. Which makeup trends are we going to see this Spring?
Susanna: "A big trend is the 'negative space eyeliner', inspired by the TV-series Euphoria, where you, when putting on the eyeliner, do not color in all the space. This trend is loved by all top makeup artists on the catwalk. Especially eyeliner in neon colors are popular!"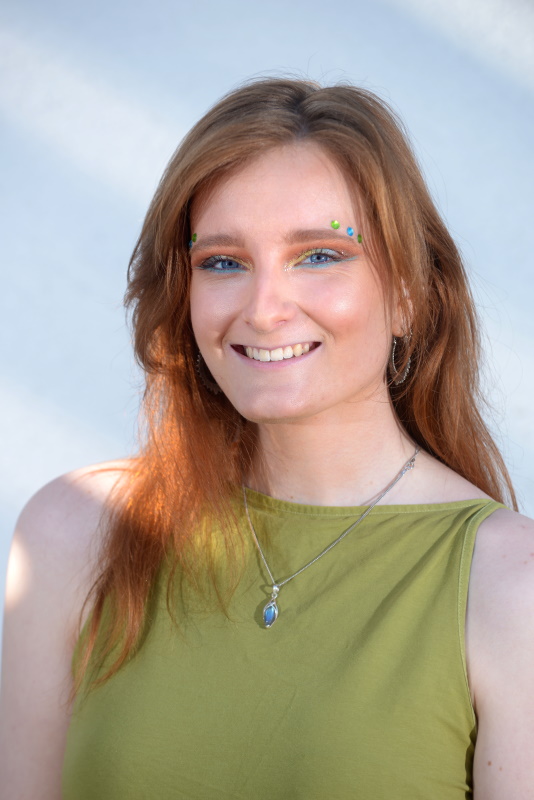 Embellished eye makeup with glitter, bright colors and gems make a great comeback in 2022. "At a festival you can go all out with bright colors and combine looks you wouldn't normally wear in everyday life. It's all about living your fantasy. Red lips are also here to stay," says Susanna. "I love it too! One tip: make sure that the lipstick color matches your skin color."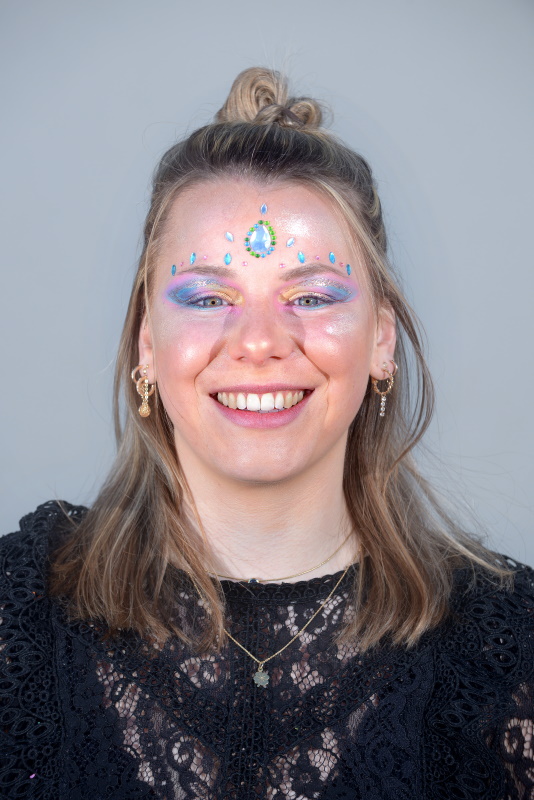 Susanna has some more tips for anyone who would like to go all out at a festival: "First of all, never try to achieve whatever you see on social media or Pinterest. These looks require hours of craft and it takes a lot of time to teach yourself.
For color transition of eyeshadow I say, BLEND BLEND BLEND!! Invest in good quality brushes and play around with a few looks during your festival preparations.
Let your creativity flow, and your personality will shine through.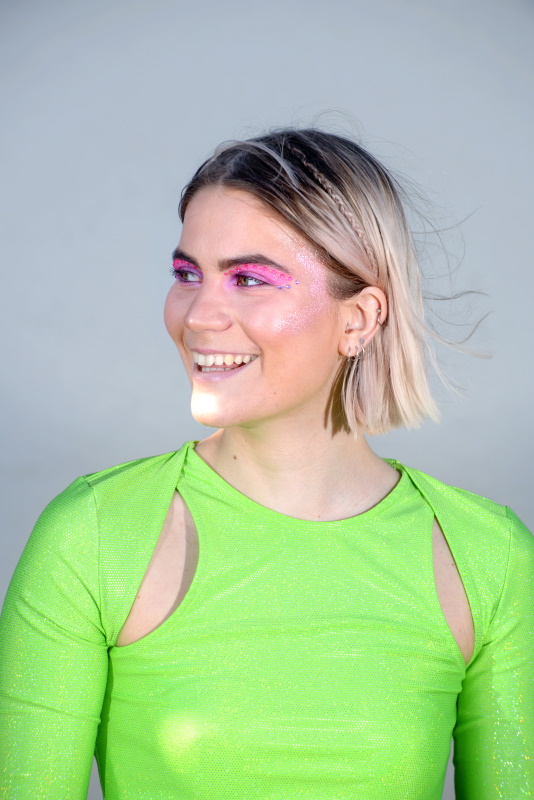 When in doubt, grab your perfect shade of red lipstick and keep the rest of your face natural.
Always check the weather in advance, and check your makeup in daylight before you hit the road."