Cyclist Elmar Abma, a second-year Civil Engineering student at Windesheim, had a great season: first at the National Championships for juniors and a gold medal at the European Championships in track cycling. Can he make it to the pros?
If you look at the winning list of Elmar (18 years old), you will immediately see: this is one for the future. A cyclist who can become a very big one on the road as well as on the track.
He had victories at the National Championships for juniors on the road and the track. In addition he won a gold medal in the omnium section in July, during the European Track Cycling Championships for juniors.
Thanks to that victory, he can ride on the track in the European Championship jersey for a year, a huge honour.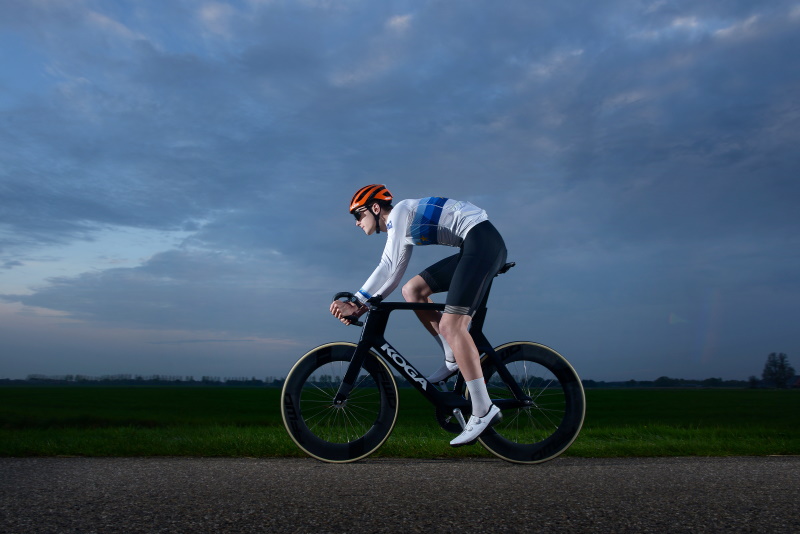 It all started with a 'Thick Tire Race' for Elmar, just in his village. These are low-threshold competitions for young people, in which children can simply participate with their city bike. The winner is automatically qualified for the Dutch Championship.
The 10-year-old Elmar initially thinks it sounds cool, so he signs himself up. But on the day itself, he doesn't feel like it anymore. "I actually liked football more. It was my father who urged me on and said: just do it, so you can see how it is."
Good for him, because he wins and then also goes home with the cup during the Dutch National Championships. "Then I just thought: where are there more competitions to win?"
After two years he makes the switch to cycling association De Driehoek, a club that focuses on cyclists from the north of Overijssel and the south of Friesland. There he can – with a license – participate in all kinds of competitions.
Floating
Crossing in the winter, mountain biking in the summer, road cycling, track cycling. Elmar does it all and is unstoppable. Together with his parents he 'hunts' competitions, they take him everywhere. "At one point my father had experienced so many training sessions that he became a trainer himself. He already knew what it was like anyway."
Elmar trains hard and wins often, and that doesn't go unnoticed. When he was sixteen, he was asked by 'Willebrord Wil Vooruit' from North Brabant to join their team. "They really do talent scouting, like football, but different. Anyone can join the club, but they ask you based on your results and try to bring the best cyclists together on their way to professional cycling."
At the beginning of the first year, Elmar didn't win anything at the Juniors, but that all changed at the end of the year. And that felt good. "If you cross the finish line first, you're on a pink cloud (like 'cloud 9' in English) and everything is beautiful. You can compare that with few other things. I immediately forget how hard I had to pedal for that race and am still floating the next day."
Fried food and cookies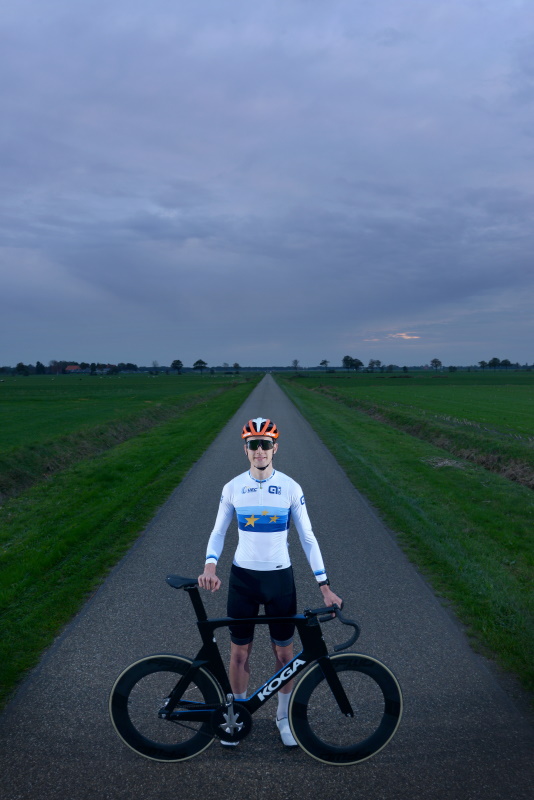 But he trains hard for that. Where Elmar achieved good results at the beginning of his career by training only twice a week, he now does this seven days a week. With the team he races throughout the Netherlands, Belgium and France and he competes in the most beautiful races. He doesn't mind that he has a different social life than many of his peers.
"A few weeks ago I went to the pub with friends for the first time. Only during the closing of the season you can let loose a little: a drink together, some chips. A really great evening." But that's it. "If I stuff myself completely with cookies, I get a feeling of guilt. Then I fool myself the moment I get to the start line and say: I have done everything to be able to give everything here today."
Broken elbow
Despite the extensive training and healthy eating, there are always unforeseen circumstances that throw a spanner in the works. Yes, this year Elmar made a real breakthrough. But something went on before that.
"At the beginning of 2022 I won the first race straight away. But then I got COVD-19. When I was finally free of the virus, I broke my elbow in the final of a next match."
Elmar often experiences major crashes, but this is the first time that he has to wear a cast for a few weeks, and therefore cannot 'really' cycle. "Falling if you are cycling alone, or if you bump into a stupid curb. Those are often the worst. I crashed because of the small cobblestones in the center of Ieper, during the Gent-Wevelgem match, and landed wrong."
"You sit at home on the couch with your arm in a cast, and get all kinds of nice messages from the others. They just kept winning. At that moment you should try to stay positive and think: my time will come. I don't even know how I got out of that. But I focused on the process."
So hop, his bike in the Tacx (a kind of exercise bike for cyclists) so that he could train anyway. "But that was only possible if I kept my elbow in a certain angle."
Four in a day
Elmar did not have to wait long for those results. Yes, there was a rough start. But then the Dutch Road Cycling Championships for the juniors started in July, and Elmar took the win. Although it didn't go to his head quickly.
"When the Dutch races went well again, I got the feeling back: 'I'm going to win races'. The Dutch National Championships went very well: we had a very strong team, and I was able to finish that. We showed ourselves very well as a team there."
The European Track Cycling Championship took place in the same month. Elmar won gold in the omnium section. "That's four games in one day. In the first three games you get points based on your results, the fourth game is a points race. Then you can get an extra 20 points by taking a lap ahead of the rest, and during the intermediate sprints. All those points are added up in the end."
"Ten laps before the end I already knew I would win the omnium: I just had to make one tactical decision. After that I could enjoy the thought that I had succeeded for eight rounds. I sat on the bike with a smile. It's a fantastic feeling to have won such a big important race. Track cycling has different parts, just like skating has different distances. And the omnium is one of the biggest parts on the track."
Make choices
But what does the young cyclist ultimately want to specialize in: track or road cycling? "Nowadays, track cycling is really a specialism. Top cyclists on the track don't always do well on the road – and vice versa. But I hope to be able to combine it for as long as possible."
"When that is no longer possible, I would like to be able to choose at that moment. With track cycling you learn a lot of techniques: ride finals, smart races. You have no brake, which ensures that you always have to come up with a maneuver so that you don't have to brake. And I can use that technique again when road cycling.
I always find a way out during a difficult situation, which allows me to maintain my speed and thus save energy."
Olympics
Next year Elmar will make the switch to 'de Beloftes', the age category under 23 years. So another step closer to the life of a professional cyclist.
He does not expect to win immediately, because the opponents are predominantly a bit older and often slightly further in their development.
Will he be able to compete with the best in the first year as Belofte? Elmar remains calm. "A little success here and there would be nice. The cycling saying remains: you are only as good as your last race. That motivates me every time."
His ultimate goal? Race all spring classics as a professional, but also track cycling at the Olympic Games.
If this doesn't work, he always has his studies Civil Engineering. "Then I will design special parts for the bicycle: so everything can be done even faster, easier and lighter."
Of all his medals and cups, that of the first 'Thick Tire Race' is perhaps the most beautiful. That cup has a prominent place in the center of his room. "So that I can think again: this is where it all started."
Text: Michelle van der Molen Photos: Jasper van Overbeek