After class, sit down in a beach chair, with your feet in the sand. WIN took a look at beach bars in Zwolle and Almere, which are popular among Windesheimers.
Strand22, Almere
'Windesheim has found its home here'
Strand22 is located on the Esplanade in Almere, a stone's throw from the various Windesheim locations. A brand new beach bar right alongside the Weerwater. "To tune-out from the hectic city for a while." Owner Martin Ort welcomes Windesheimers every day for staff drinks, dinners or simply because it is a relaxing place to work and study. According to him, people from Windesheim have found a home base at Strand22 and we are 'good and pleasant customers' as far as he is concerned.
In the left corner is a DJ booth with authentic record players. Against the wall are cupboards full of records and books that visitors can take at any time. There is sports and play equipment for children and the place has its own volleyball court on the beach, so that you can also play beach volleyball this summer.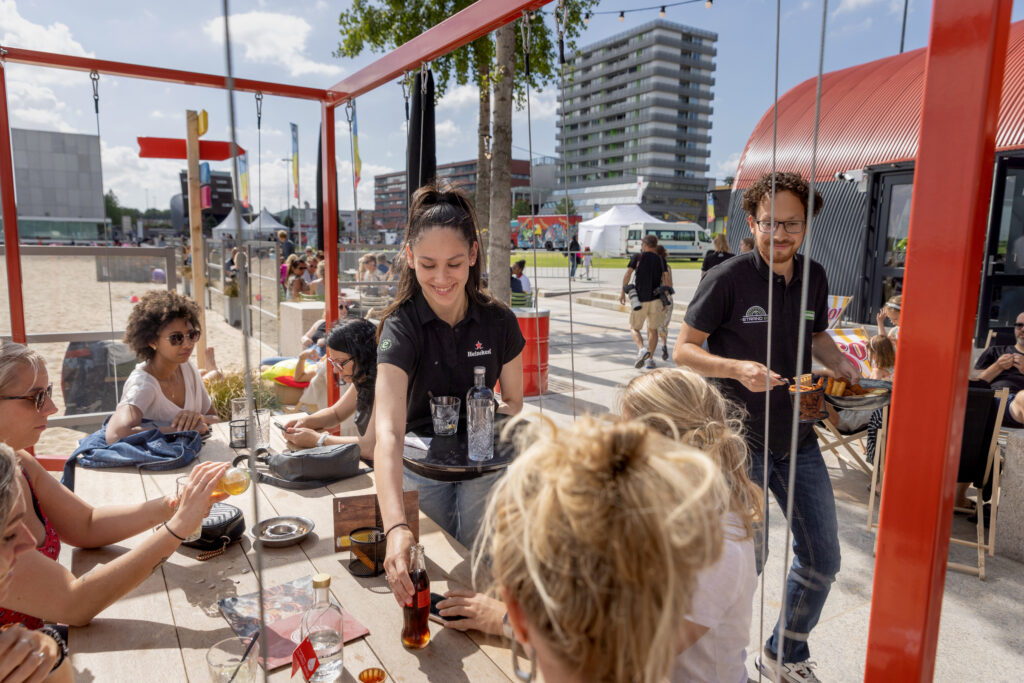 According to Martin, this location used to be a 'no-go area' in Almere. There was only asphalt, it was dark and creepy. But as director of Almere City Center he had had a dream for four years to start a catering business in this very place.
"We are not a restaurant, everything is possible and allowed here," says Martin. And that's how it feels. The atmosphere is similar to that of a canteen at a campsite or holiday resort, but funky and more luxurious. "I often get the question whether guests can rent the business, but we don't do that. We always want to remain publicly accessible. We are not a party center." "Too bad for the customer, but really necessary for us and the staff because it's always busy here.
When the weather is nice and the place is full of guests, then all doors are open and guests are sitting everywhere and nowhere." Martin even numbered the stones in the sidewalk outside on the boulevard with table numbers because people sit there too.
The shape of the beach tent is a domed shed. The disadvantage of this construction is that it is quite noisy inside when it is busy, and guests can hardly understand each other.
Seventies and eighties music is played from the speakers, but there is also regular live music in the evenings.
In the summer, Martin wants to continue this until the early hours on the beach: there is no closing time. "As long as the atmosphere is pleasant and it remains a pleasant working environment for the staff, we will remain open in the evenings."
Although it is not a restaurant, you can enjoy a delicious meal at Strand22, all kinds of trendy hot and cold dishes and snacks. From poke bowl to (veggie)burger menu or scallops. The dishes are freshly made and the prices are attractive.
In terms of drinks, you can make it as crazy as you want. A soft drink or coffee from 2.00 euros to bottles of wine and champagne for more than a hundred euros. For 7.50 euros you already have a gin and tonic.
The number of toilets, on the other hand, is limited, so we can imagine that you have to queue for this in the summer (or you take a leak in the Weerwater).
Blue Bayou, Zwolle
Peeing standing or sitting
The city beach on the Rodetorenplein in the heart of Zwolle has been renamed 'Blue Bayou' this summer. One step on the sand and you will find yourself in a tropical paradise.
The atmosphere is great, it is completely 'beachy'. After a look at the menu you get the idea that you are walking around in South America; at 'Bennies', the food stall of Blue Bayou, you can enjoy all kinds of tacos and other Mexican snacks. Almost all vegetarian and also a wide range for vegans. Although not all are student budget-friendly. For about 8 euros you order 'chilaquiles': a plate of fried tortillas covered with salsa and feta.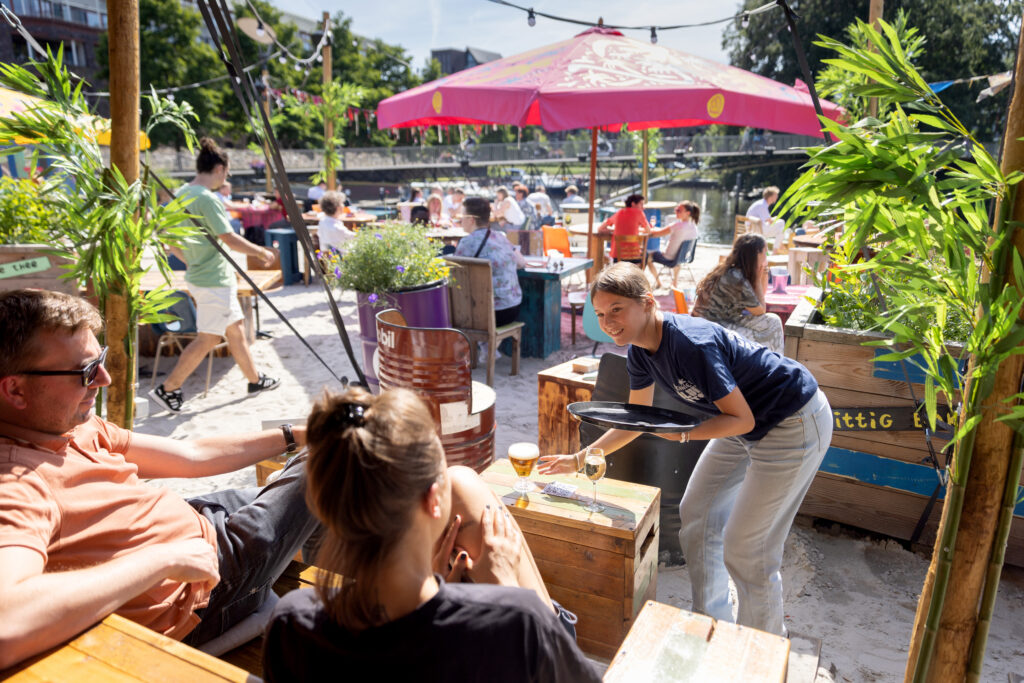 Blue Bayou is committed to sustainability. The furniture has a nice retro look and they say that there is a chance that the piece of furniture you are sitting on could have belonged to the aunt of your neighbor's father, and that they donate 5% of the turnover to a culture pot! Around the city beach are artistic fences and lamps. This also makes the beach attractive to go to in the evening.
Het Gilde, the organization of live musicians in Zwolle, performs once a month at Blue Bayou. Eva Heijne, part of that team, thinks the spot is a real asset. "Not only because a city beach is simply a nice place to have, but also because this is a collaboration between several entrepreneurs from Zwolle, each of whom has a real heart for culture". She believes that this lays the foundation for a larger cultural program in the city. "The fact that we were asked to do this shows that they like to collaborate and thus expand the network of cool young culture people into something lasting that also has a real future".
The toilets are exactly as you will find them on the beach, but instead of making the distinction 'male-female', Blue Bayou does that very nicely by distinguishing the two stalls into 'peeing standing' and 'peeing sitting'.
Next to the beach benches is a large pink device from the local drugstore. It looks suspiciously like a hand sanitizer dispenser, but if you put your hand under it, instead of hand alcohol, a splash of sunscreen comes out.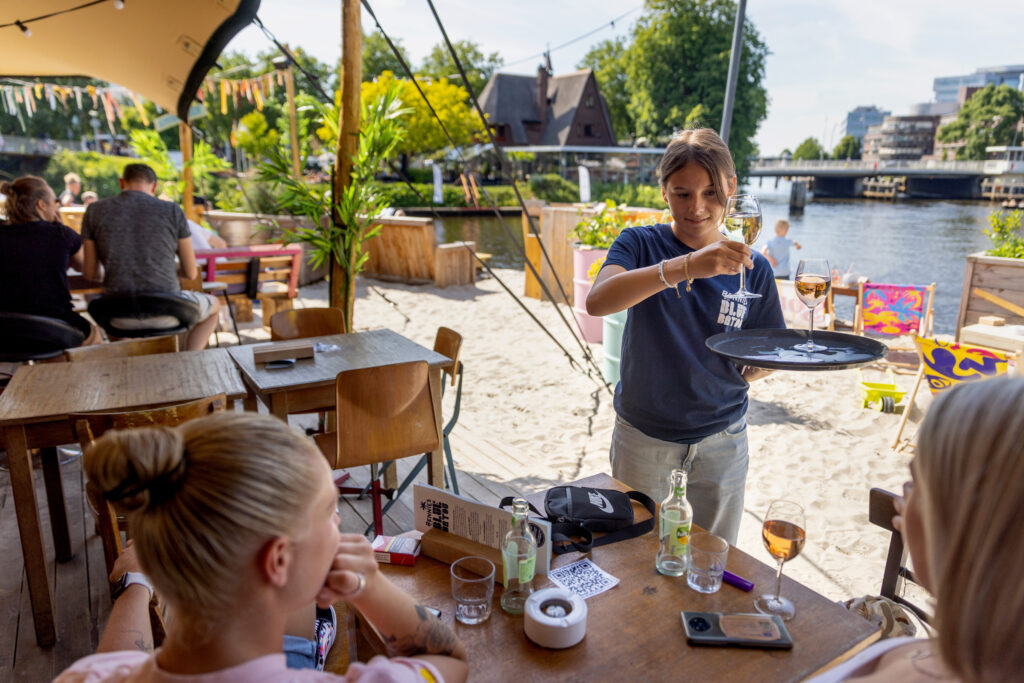 For alcohol you are of course welcome at the bar, where you can choose from four cocktails. The price in combination with the content is hard to swallow, for 9.50 euros a Frozen Mojito Sex on the Beach the size of a shot will come your way. It does ensure that you take your time and enjoy this refreshing sweet cocktail even more. Even the wasps loved it.
Campus beach, Windesheim Zwolle
Bring your own drink
You can also enjoy summery beach vibes on the Zwolle campus beach (open untill september 2022). When the weather is nice, there are nice chairs and beanbags on our own 'beach', next to building X.
The campus beach is an initiative of the Executive Board, for all students and staff. "It is a gift in the form of a nice chill spot, after more than two COVID-19 years and because we scored well in the Dutch National Student Survey (NSE)", explains Irma van der Kolk, who co-organizes the events within Windesheim. "During the week you can sit comfortably, hold meetings, consult, celebrate or even make exclusive reservations". In May, Windesheim launched its own festival on campus. The campus beach was also fully used for this.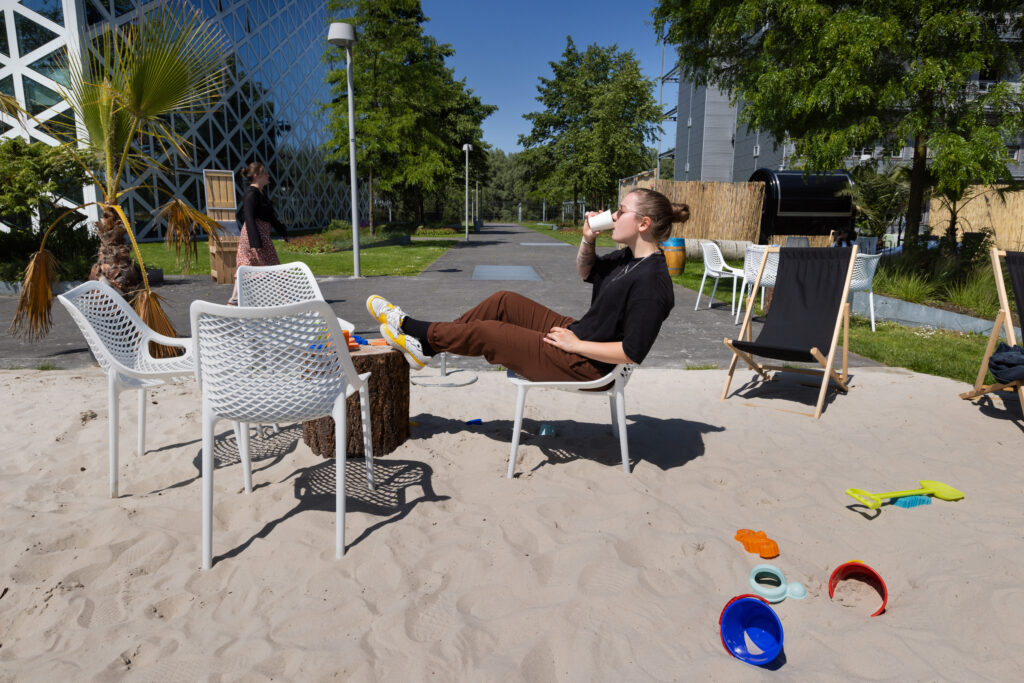 Other than during events, the beach also looks attractive to freely spend time at, although there is no standard catering available. There are jugs filled with free tea, coffee and water available for those who are very thirsty. In the sand there is play material for those who like to dig. If you really want that one beer or snack, you should better walk to the Sports Café.
A snack and drink is not standard available, but can certainly be arranged. In consultation with the food service of Windesheim, there is a food truck available where you can get the necessary snack. Everything you can find in the canteens is available there.
Text: Reinhilde van Aalderen
Photos: Herman Engbers