According to the Municipality of Zwolle, supply and demand for student rooms are 'in balance'. But rents continue to rise.
One room, thirty responses. That is what Jan Fuite, student Teacher Education in Physics, sees as the administrator of the Facebook page Kamergezocht/aangeboden Zwolle ('Room searching/offered Zwolle'). A Facebook group with more than 12,000 members. People there let them know that they are looking for a room (and approximately for what amount), others offer a room and indicate which resident they prefer: a boy or a girl, international or not. Room providers usually make a selection of ten candidates from those thirty who are allowed to come and visit. Finding a room, therefore, requires an average of thirty responses and being invited over about ten times. Fuite: 'The engagement figures for the advertisements are five to six thousand, so I'm guessing that about a thousand students in Zwolle and the surrounding area are currently looking for a room.' There is therefore one student who is looking for a room for every five students who are already occupants. 
Fuite has been an administrator for three years. He checks the posts (about three a day) and the responses to them. In those three years, rooms have clearly become more expensive: 'What I see is that rooms are now on average fifty to eighty euros more expensive than three years ago. I also see it in my own environment. My own room is about eleven square meters and I pay 350 euros for that. Three years ago, I thought it was quite expensive, but I was happy that I had a place for a long time. These kinds of prices are now quite normal.' What do students who are looking for a budget call? "Between 450 and 500 euros. Unless they're couples, then it's a bit higher. But nowadays it is really a challenge to get a decent room for that amount.'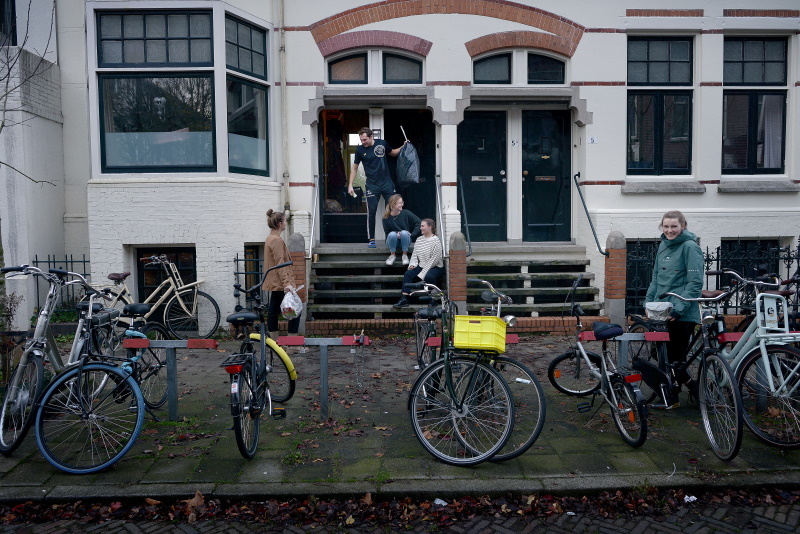 Demanding.
Has the Corona crisis not pushed prices down? "During the previous lockdown, there were far fewer students looking for a room. You could see that in the drop in the number of responses. Sometimes only two people who were interested in a room responded. Then there was a small flood of free rooms because students started living at home again, there was nowhere to go and not every student house was equally cosy. But at the beginning of this academic year, everyone felt like moving into rooms again and there was a small run on rooms. Lately, I still see an increasing trend in the number of room seekers.'
More demand than supply. They also notice this at the SSH, the organization that rents out more than 19,000 student rooms nationwide. But they find even more. 'What we see specifically in Zwolle,' a spokesperson said, 'and that is a choice of the house hunters, is that the students who are looking for a room are quite critical. They would prefer a studio instead of a room right away." The SSH system assumes that a student starts small. You keep your registration period and can "save" to a larger room, and then to an independent unit. 'But we see that students prefer to skip those steps and immediately want to move to an independent unit. They want to go straight to a studio. But they have to wait about three years for that. We see that there is much less response in rooms than, for example, a studio on the Talentenplein. When I put a Talentenplein studio online, 150 people responded in just two days. While there are considerably fewer people responding to homes on Rijnlaan, which are shared units.' 
On-campus? 
In the meantime, the Municipality of Zwolle does not seem really impressed by the shortage of student rooms. On October 22, the PvdA faction asked whether the Executive Board was aware of the increasing need. The Board announced (in writing) that 'various reports' would show 'that the market for student housing is in balance.' The municipality even expects a decline in the number of students in the longer term, due to the declining population growth in the region. There are therefore no specific building plans, but student housing is part of the existing new construction mix. The Board, for example, calls the Spoorzone 'an excellent place for adding urban forms of living that Zwolle only offers to a limited extent. Think of compact studios for starters and co-living homes for students." And according to The Board: "The site of the Windesheim Campus also offers space for densification, where (student) housing can also play a role."
The municipality and the SOOZ, the umbrella organization of student associations, agreed that rental teams should be set up, 'who could be engaged in researching the state of the rental market for students, visiting student housing to investigate the quality (…) and supporting and guiding tenants through the process of going to the rent assessment committee." A pilot is being considered.
Windesheim has hardly any influence on the housing policy of the municipality, Dirk Pieter Halbesma has to conclude. "What we do is think along. We participate in developments and emphasize the necessity. In Zwolle, we actively participate in the development of the Spoorzone. With the municipality, developers and housing cooperatives SWZ and Delta Wonen. In Almere, we are discussing the student campus to be developed that will be located next to our new building (for students from Almere and Amsterdam). Here we coordinate with the municipality, Amsterdam institutions and we have contact with Duwo.'
Halbesma, director of operations at Windesheim, recognizes the picture of the stagnating student numbers. "That's true from the demographic point of view. In our campus development plan in Zwolle, we also assume shrinkage, although we do not see it that significant in practice.' And the suggestion that space will soon be created on the campus for student housing? 'That is not true. We have not included student housing in our plans. Our campus currently does not have enough space for this. Transformation of buildings (eg E, F and G) would only be a possibility in the event of significant shrinkage in the future. That is not the case now.'
According to the municipality, supply and demand may be 'in balance', but in the meantime, the student housing market is overheating. Jan Fuite also sees this on his Facebook page. "Recently, a room in the Holtenbroek district of nine square meters was rented out for 450 euros per month. But according to the government's Rent Check, a maximum of 250 euros can be asked for such a room.' Students must borrow as much as possible and work a lot to be able to pay the current rent. Others have parents who can buy. Fuite: 'Occasionally I see multi-room apartments passing by; where someone is looking for one or more roommates. But those rooms are also often on the high side in terms of price.'
And what about the number of student houses? 'They are often within the student associations and do not appear on my page. The student association of which I am co-director has two houses of its own, of which the residents have bought them themselves.' Growth is not to be expected there: 'The municipality is not very happy with this type of student housing. You must apply for a permit and meet all kinds of conditions if you want to live in a house with more than two people. These types of permits are issued very sparingly. Plus: it takes an unbelievably long time.'
Finding a room is therefore a matter of continuing to try, good hospitality, not making high demands and… being social. That also helps. Fuite: 'What I regularly see among the reactions is that people are setting up a kind of collective. If someone has the opportunity to rent a three-room apartment within the social sector and is looking for another roommate, contacts will be made on my page to see if they match.'
'At least twenty extra rooms'
When it comes to housing, international students pose a separate problem.
WHC students are entitled to a room in any case; others have to search from abroad, which is almost impossible. The municipality also admits 'receiving signals' from education and the SSG 'that there is a particular shortage when it comes to housing international students.'
Windesheim's Housing Department has permanent agreements with the SSH, says housing advisor Ingrid Smit: 'They reserve a fixed number of rooms for our foreign students. These are students who have registered for the Honors College or who have registered via the International Office. At the Honors College, a room is part of the concept; those students are assured of a room. We have reserved a fixed number of rooms for students who come to Windesheim via International Office. At the moment 188 rooms have been reserved, of which 80 are for the Honors College and 108 for students who enter through the International Office. We now see that there are again larger numbers of international students and we would like to have at least twenty more rooms. We are discussing this with the SSH.' International students (not WHC members) should therefore take into account that they will have to find a room themselves, from abroad. As soon as the available number of rooms threatens to run out, the IDE also warns them about this. And it gives them as many tips as possible.
Text: Marcel Hulspas, Reinhilde van Aalderen
Photo: Jasper van Overbeek