You want to look good these next few days. Preferably for little money. That is why WIN sent students, Melissa, Kornelia and Roos, to a store full of second hand designer clothes.
Melissa, a first-year student, and Kornelia and Roos, both third year students, love glitter, glamour and shopping. But designer clothes? Primark is already too expensive for them.
That is why they were very happy to hear about the Overijsselse Diva. This is a shop in the centre of Zwolle where they can buy Prada and Chanel for nearly a fourth of the original price. Let the shopping begin!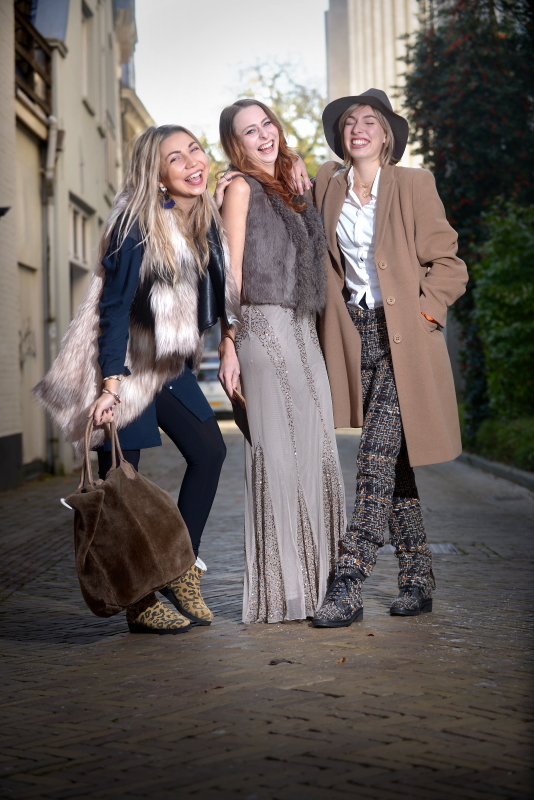 Panther-craze
Kornelia immediately runs towards the racks and quickly pulls out all the items that have a panther-print. She laughs when she is asked about this. "I don't realise that at all. I just think those prints are beautiful. And the price isn't bad at all, I didn't expect it to be this affordable!"
'Hot and happening? Combine two different fabrics, like wool and satin.'
Janine Everts, the owner of the Overijsselse Diva, explains the idea behind her shop. "Ten years ago, vintage stores sometimes sold some special items, but they are so popular nowadays that there isn't anything interesting left. That is why I started my own second-hand store for designer fashion." In the meantime, Kornelia is putting back her panther-sweater and turns her attention to a fake fur sweater. "And a legging for sitting on the couch, very cosy!"
Preferably no Primark
Melissa is a big fan of vintage stores. "Everyone is wearing the same things these days and you can use vintage clothes to distinguish yourself. I love the design of the clothing. It is often slightly different. Everyone just shops online, which is such a shame! I have to see and feel an item of clothing before I buy it. It is nice that there are still some actual shops out there."
She then storms off to the glittery dresses and runs her fingers through thousands of beads that are attached to a red evening gown. Roos is also not new to second-hand clothing. "The flee market IJ-hallen in Amsterdam-Noord or Finders Keepers are my
go-to places. Now that I am a little older, I am paying more attention to the quality of clothes. That gives me a bigger thrill than scoring cheap basics for the lowest price possible at Primark."
Chanel lovers
When Roos is finally wearing Chanel, it turns out that the trousers aren't as comfortable as they seemed. "It itches so much, it is unreal. And it is so warm." Janine does add that Chanel-items are often sold out instantly. "Just like Shabbies, everyone likes those boots. Burberry is also very popular at the moment. The quality of designer clothing is also very good. You can wash it and it will look as good as new, even if the clothes are over ten years old."
Now that Roos has taken the Chanel-items, her mission appears accomplished. But the rest of her outfit needs to be completed. "I always start off with a cool item and, from there on, I put the rest of the outfit together. But now, at least, I can tell everyone that I wore Chanel." Melissa and Kornelia look at her with admiration. Either that or they are dreaming about a life with Chanel – which could very well be.
Hot and happening
What is completely hot and happening this season, according to Janine? "A combination of two different fabrics. So wool and satin, or something covered in glitters with a cool item to compliment it, as long as you combine different styles. Never buy your clothes a size too small, people still do that too often.
While Melissa braces the cold in her evening gown for a photoshoot, Janine comes running by with a suitable bag and shawl. Melissa didn't go for the glitters but fell in love with a dress with a small train. "You can hold the train and wave it around, so glamorous!" Everyone got what they wanted because designer clothes are apparently not just for the elite.
Text: Michelle van der Molen
Photo's: Jasper van Overbeek

'This small train is so glamorous'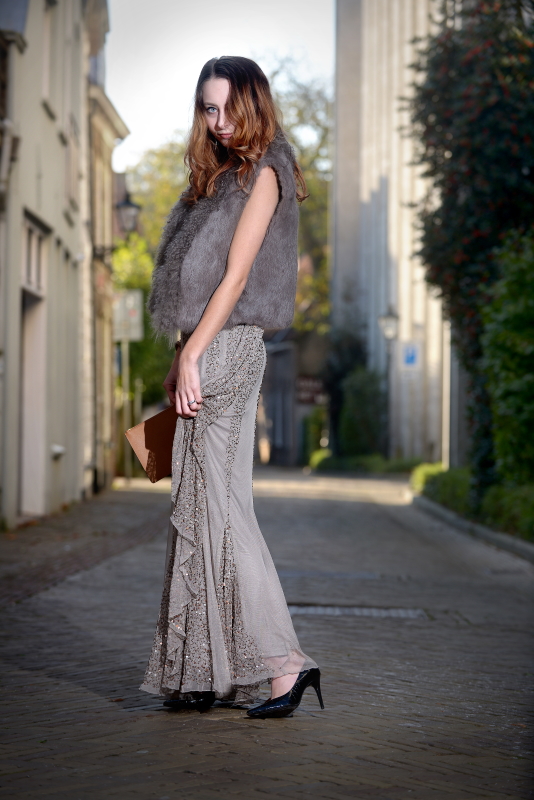 First year Business Management Studies student Melissa van Pijkeren (21) chose an outfit for a very chic party.
"I thought this dress looked the most glamorous, because of the train attached to it. That makes it a little different. I chose a dress this time, but I do like a more alternative style. For example, trousers with a nice top can also be very glamorous!"
"Clothes make me, it is how I define myself. My style ranges from gothic to vintage, because I dress according to how I feel. I normally shop for a lot of vintage. Next to that, I also look through AliExpress, on the hunt for strange items. Throwing stuff out is a waste. It is better to give clothes a second life."

'The fluffy bag is almost like a pillow.'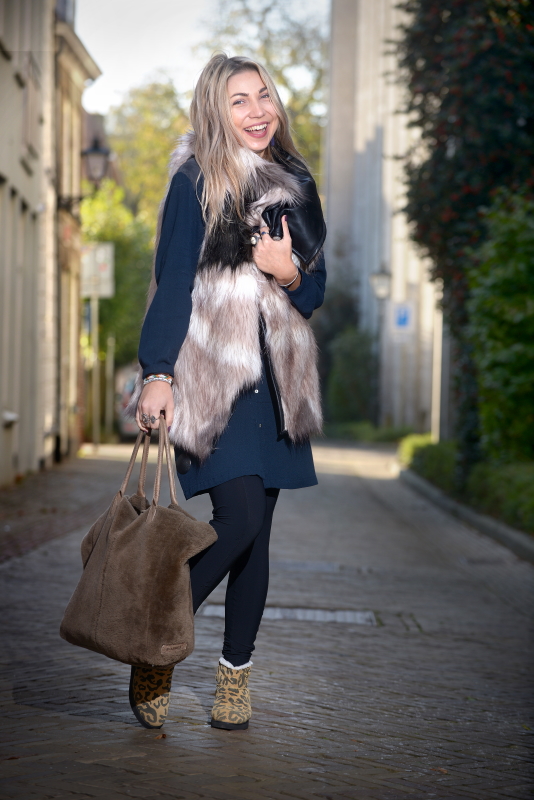 Third year Global Project & Change Management student Kornelia Augustyniak (23) found a comfy but glamorous outfit for a night in on the couch.
"The soft bodywarmer is wonderful but I am not going to lie on the couch like a diva in these clothes. There are far too pretty for that. They should be seen. The fluffy bag is almost like a pillow. I almost fell asleep on top of it during class… The shoes are also very comfortable, like house shoes. They look like those too. They are definitely meant for indoors; I am not wearing these panther boots out there."
"Clothes that cost over five hundred euros are fun for on Instagram, but I would never dare to go out in them. Second-hand designer clothes are the perfect solution – and they also look brand new!"

'This cloak is cool and chic."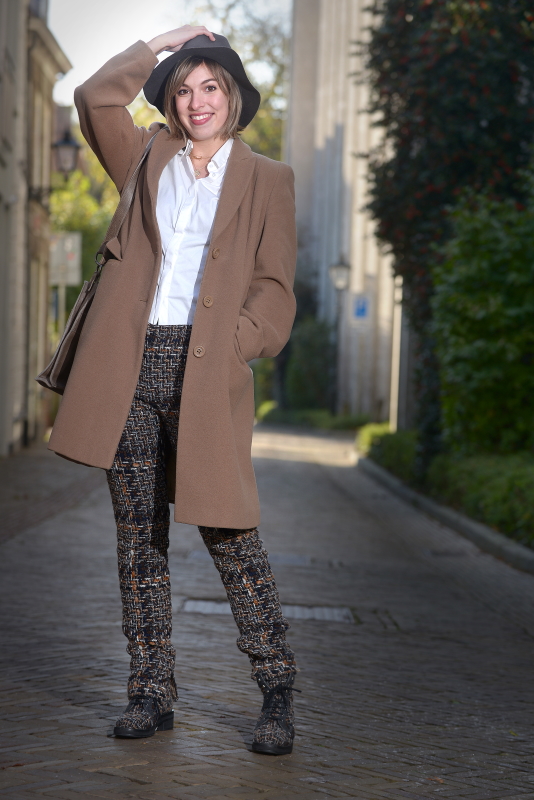 Third year Communication student Roos Mens (21) went for a stylish outfit to keep out the cold of the winter.
"I was looking for a nice cloak and this one has very striking details. It is fitted, feminine and doesn't have a belt. It doesn't look like a bathrobe, but it looks cool and chic instead. The trousers and shoes are Chanel. Yes, I just had to try them on, even if it was to just say that I wore them. It was a bit unreal."
"My outfits always need to have something cool to them. I like clothes that people would not easily put on. For example, I have 'construction-workers-trousers' that I like to style with fun items, which pull the look together."