Don't have holiday plans yet? Go road tripping! These students already went and they do not regret any second of it. Rachel: "The whole village came together to help us find a place to sleep."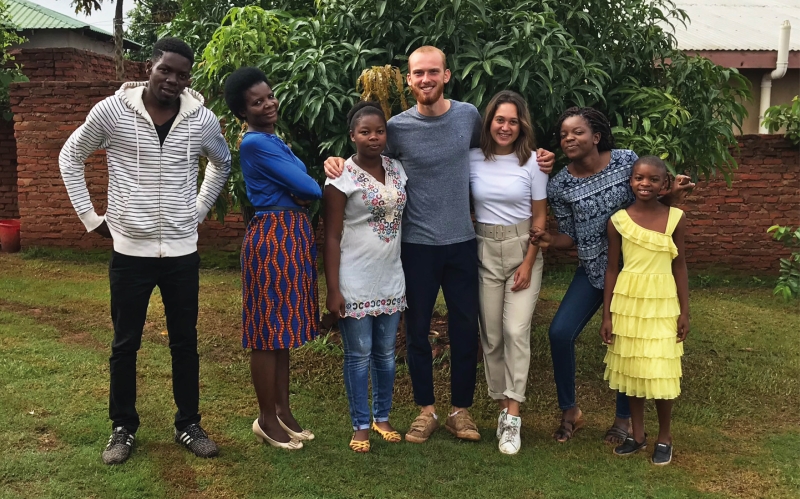 'Suddenly there was a leopard in front of us'
Rachel de Vos (23), fourth-year journalism student, took a flight to Malawi last summer to go backpacking with her boyfriend. She visited him because he was doing his internship there.
"The only thing that was certain, was the length of our trip. Malawi is not touristic, so we could not find any routes online. They don't have any public transport there, so we first drove north in minivans and then went to the highest mountain all the way in the south. Most roads are unpaved, so it takes twice as long to get anywhere. When it started to get dark, we would look for a place to sleep. Motels were hard to find, so we just asked the inhabitants most of the time.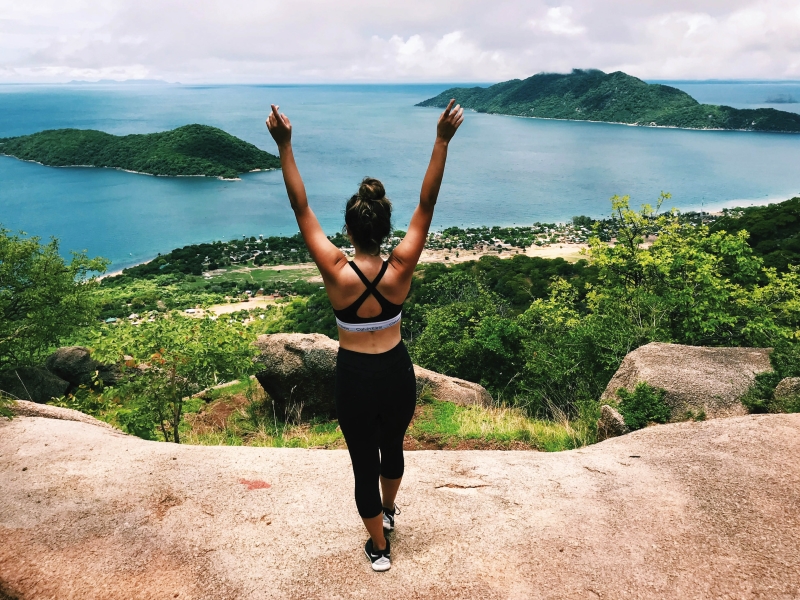 The freedom is lovely, but we should have planned a little more. When we arrived at a National Park it turned out we could not get in anymore. There we were, stranded in the dark. The whole village came together to find us a place to sleep. Eventually we slept at someone's home for one and a half euros. They had a spare room. They even cooked for us for one euro extra. The next day they took us to the park: three people and two backpacks on one motor. They tied everything together with bicycle tires. People there are fantastic!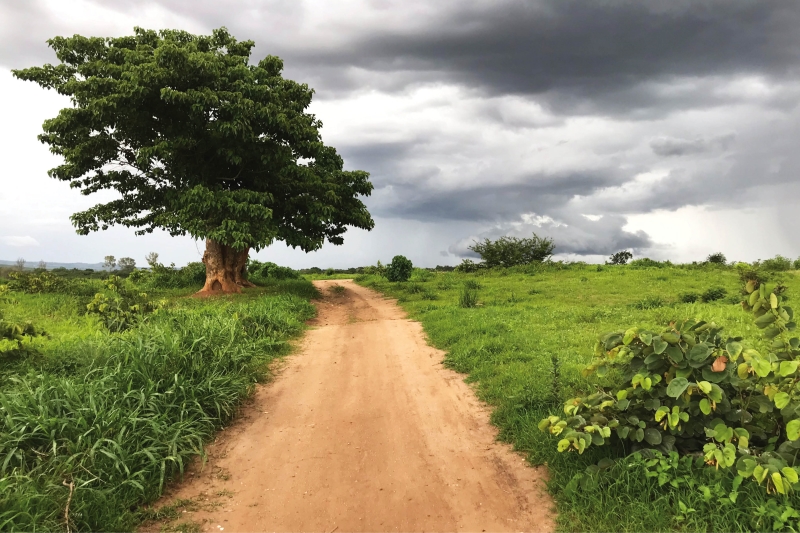 Another tricky moment, the mountain trip. Once we were on the mountain the weather turned bad. There we stood, the two of us, on the most famous mountain in the country, there was no one there except for us. What used to be a stream you could easily jump over, now turned into something you really had to drag through. Everything became slippery. But we continued to the top. Suddenly there was a leopard in front of us. I only then realised how dangerous this was and we turned around straight away. I know leopards are scared as well and they will not come towards you straight away, but this could have ended very badly."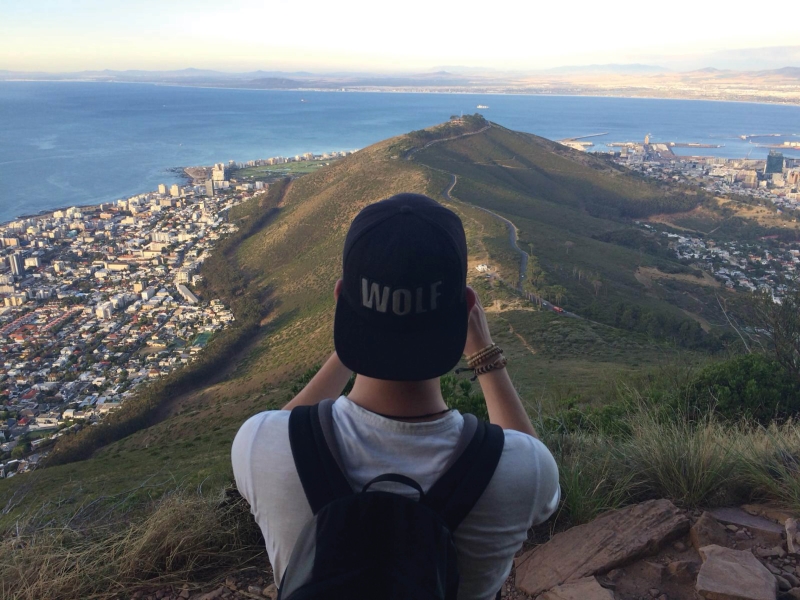 'Ants were falling off the ceiling'
Last winter Wytze Schut, second-year Human Resource Management student, travelled to his girlfriend in Cape Town, who was studying there for half a year. Using a rental car, they drove along the 'Garden Route', going from one Airbnb to another.
"The car trip alone was beautiful. The Garden Route goes along the sea, beaches and different national parks. All those nature reserves make for a great view. Going out to eat is cheaper than buying groceries: you eat breakfast at one place and lunch at anotherand drive toward your next destination. This is an experience that I will still talk about when I'm 70, to my grandchildren.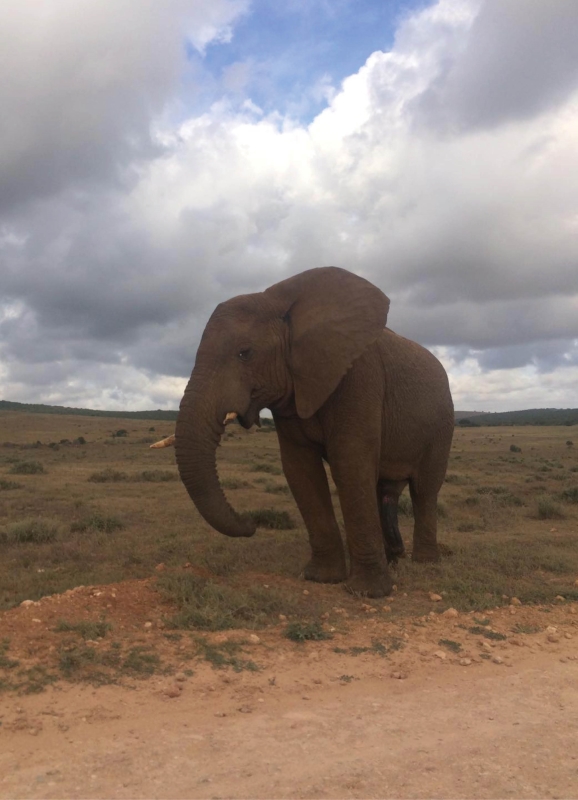 I had booked a few Airbnbs in advance while still in the Netherlands, the first one, also the prettiest one, was in Cape Town. It was super small, a built-in double bed against the windows, but it had a view of the Lion's Head, one of Cape Town's most popular mountains. We ordered food from Uber Eats and did not get out of bed anymore that night, like real students.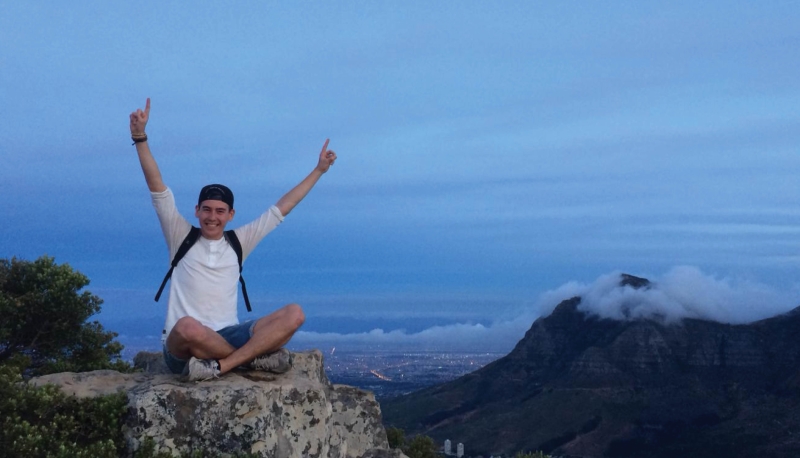 The most expensive Airbnb we booked, a lodge in the middle of a small safari park, turned out to be full of ants. The owner was very relaxed about it and gave us anti-ant spray. After we cleared our bed of ants and laid down, the ants were falling off the ceiling, on our face. Someone had to come wipe away the ants with a broom and kill them one by one. The next morning, we did wake up to the noise of zebras in front of our door. That is something you can only experience here, beautiful!"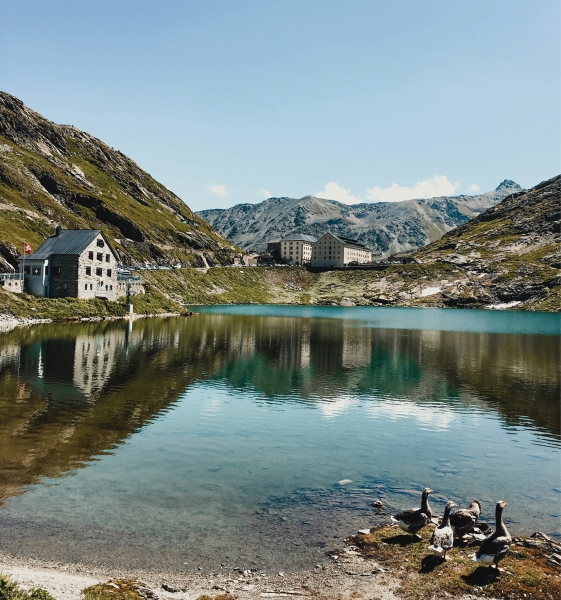 'Eating pizza at Lake Garda'
Their holiday destination? Third-year journalism student Melanie Borgman and her boyfriend could not agree on that last summer. So, they decided to travel throughout Europe.
"Our first stop? Berlin, this was the only hotel that we booked in advance because we played it safe the first night. Eventually we drove around Europe by car: Berlin, Prague, Vienna, Croatia, Venice, Turin, France, a little bit of Switzerland and back to the Netherlands via Luxembourg. It feels like we have been away for a year, but it was just three weeks.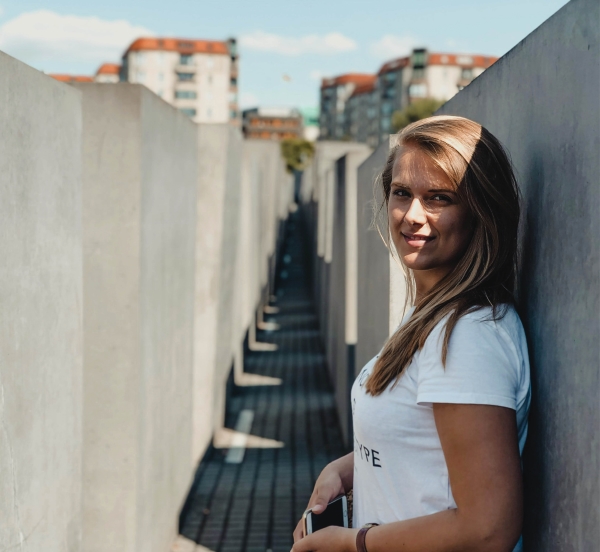 We stayed in hotels, apartments, bed & breakfasts and went camping. We were not prepared to go camping. I did throw a tent in the car just in case but that was it. Very basic. Instead of canvas, we used garbage bags and an upside-down sink became our table.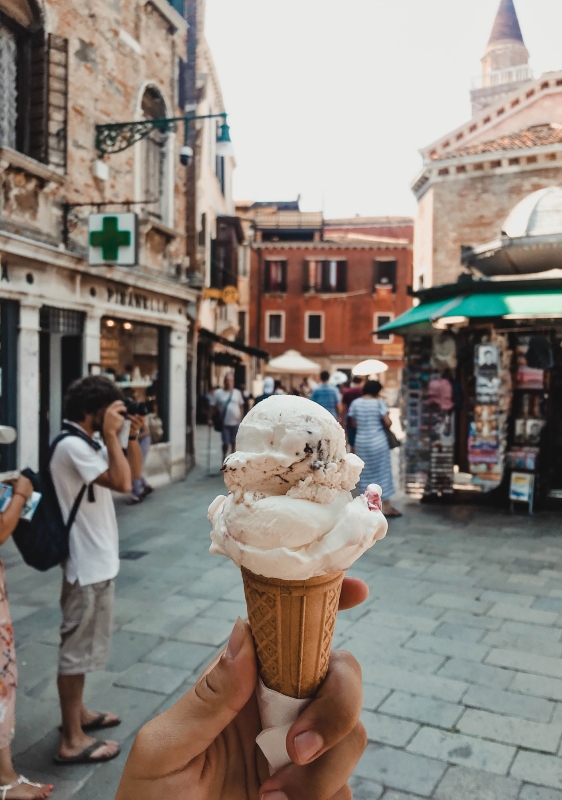 The only thing I really missed? A travel kettle. Because even though it is 35 degrees Celsius, I had to have my cup of coffee. It's not like I didn't get my daily amount of coffee, you can stop everywhere you want if you're by car.
This creates the most wonderful moments: Eating pizza at Lake Garda or stopping the car in the mountains in Switzerland because the view is breath-taking. The freedom is amazing. We enjoyed camping so much that we're going camping again next summer! This time we will prepare better. Along the coast of Croatia, by car!"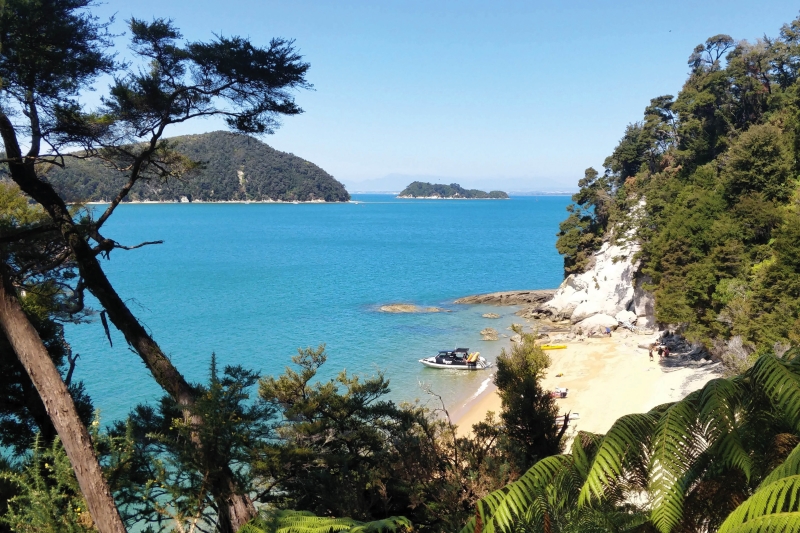 'Skydiving above glaciers'
Tjeerd Brandsma, third-year Logistics Engineering student, was studying abroad one semester last year, in New Zealand. He decided to stay two months longer to travel.
"Buying a car as a tourist here is fairly easy, so that is what I did. Together with my Austrian girlfriend, who I met in New Zealand, we drove, counterclockwise, around the South Island. There were a few things I really wanted to see: the glaciers, the fjords of Milford Sound and Mount Cook and Lake Tekapo. The rest of the trip was not planned yet. We went to places you'd never go with a tourist bus.
We ended up at a sixty-meter-high waterfall, where we were all alone. That is so overwhelming, it makes you feel small and humble. New Zealand has many touching places. During my internship I could often be found near the sea. When I was there, staring at the water, I could start crying for no reason. There are so many extraordinary places to visit!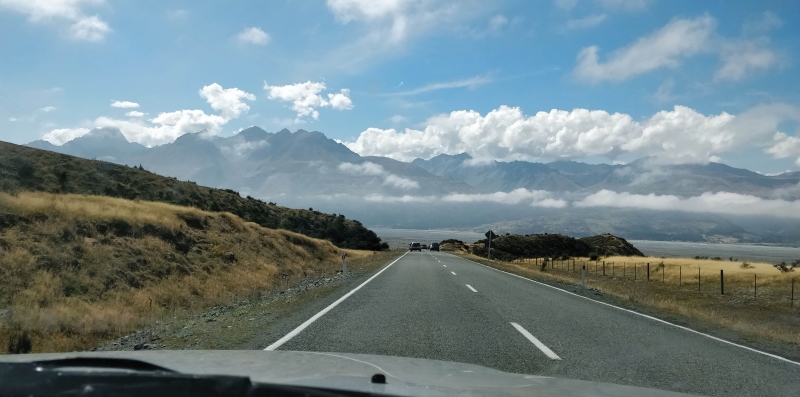 I did everything I wanted to do: skydiving above glaciers, sledding, rock climbing. I even went diving, I did not expect that to happen. The guide was swimming right above me, grabbed me by the collar and swum into the fjords. I did not have to do anything myself, just intensely enjoy the moment. My favourite moment? An Airbnb at the west coast, in the middle of nowhere. There was no one around. We watched the sunset with a glass of wine."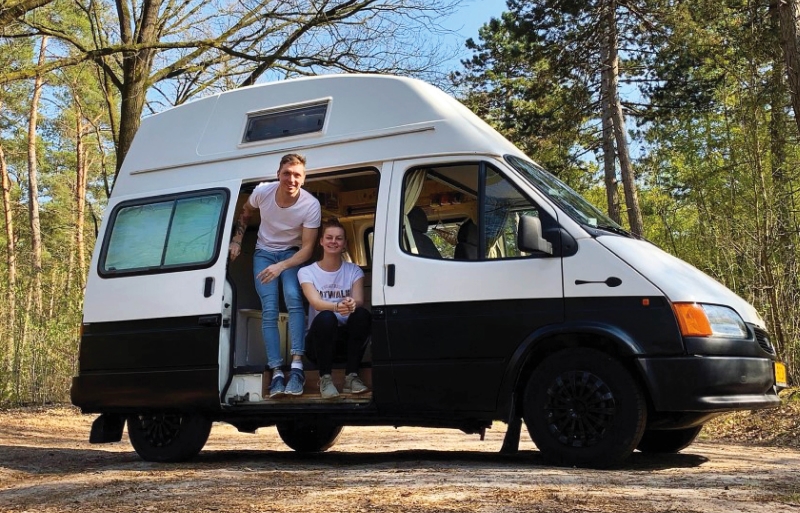 'We want to learn how to surf'
This summer third-year Education in Primary school student Roelof Alkemade and his girlfriend are touring along the coast of Europa with a self-renovated campervan.
"We don't have to take anyone into account. We keep an eye on where we are allowed to stay the night by using the CamperContact app or we will just park in a meadow. We have a shower bag you can fill with water; you can put it on the dashboard, and it will reach a temperature of 32 degrees Celsius in half an hour. We will be driving past the beach all the time so there will be an overload of beach showers and seawater. I am a big fan of music festivals so I can handle not showering for a few days as well.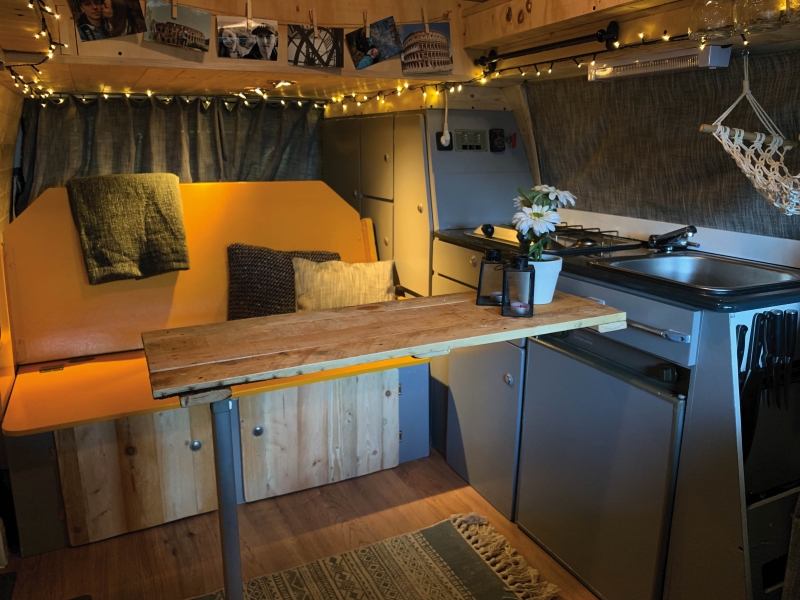 I have been wanting to go on a road trip for a while, it just never happened before. Our plan is to drive along the Atlantic coast because we want to learn how to surf. We'll see where we end up. I have a fear of water, so this is going to be a fear I will overcome. We already bought the surfboard and hung it at the top of the bus.
We could have just bought a standard camper, but I do not like those at all. It is like you are already retired. We could customise the inside of the Ford Transit we have. A renovated work van. I took out the seats, walls, floor and ceiling to be able to really make it our own. I isolated the van as well. My biggest fear? That the camper will stop working, putting an end to our road trip."
Text: Michelle van der Molen