On the picture: An ordinary house party at Daria Luna's place (in the middle)
Every year at Windesheim there are a few hundreds of foreign students. Who are they, how are they being taken care of and what do they think of living in Zwolle?
'In the Netherlands the workload is a lot lower'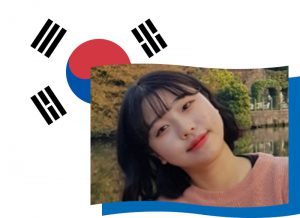 I feel comfortable in Zwolle. There is a nice atmosphere and the people are very relaxed. In South-Korea people are always working, here the workload is a lot lower. Another big difference is that in South-Korea, the relationship between students and teacher is a lot more strict. Here you talk a lot with the teachers and you can ask them anything, in South-Korea there is almost no communication between the students and the teachers.
I am not the only Korean exchange student in Zwolle, there's a whole group of us here. I don't hang out with just them, though, I also have a couple of Dutch friends from the study program. Next to that I'm also a member of SUN, which stands for Students United in the Netherlands. They organise a lot of things for the exchange students, for example an introduction week, nights out, and a tour through Zwolle. It is good that a club like SUN exists.
Soli Kim (21) from South-Korea
Exchange student International Business
'Students Honour College are in a bubble'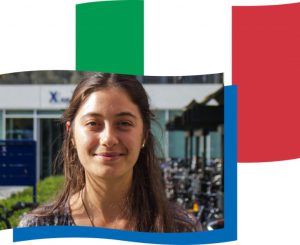 "I currently live with a Dutch friend because I don't have my own place. It is difficult to find affordable homes here and not everyone wants to live together with a foreigner. Living and studying together at WHC and the Hive the first year can sometimes feel like living a bubble, which has its up and down sides. For instance, there are always beautiful like-minded people around to spend time with, but it also makes it harder to meet new people, thus I would suggest everyone to go explore further. Zwolle is just as big as the city I come from, although it feels a lot smaller. All the hot spots are in the city centre, outside of it you can find all the residential areas. Furthermore, I find the city centre to be cute, it has something enchanting. When you walk down the streets, you can look inside people's houses. They like to decorate their windowsills and care for their interiors! It can happen that people greet you randomly on the streets, which feels very open and welcoming. Some basic Dutch skills can ease up conversations."
Gabriela Amidei (22) from Italy.
Second years Global Project & Change Management.
'Living in The Hive is really great!'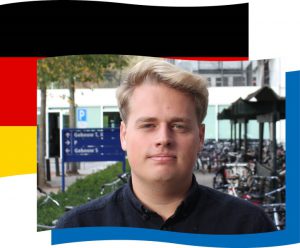 If I hadn't been living in The Hive, I would've been a lot lonelier. I don't understand why they aren't more schools that have their own special living place for foreign students. After just a month it feels like I have known my housemates for years. My study program also has a lot of Dutch students and they all live here too. We do a lot together: cooking, going to the park, working out and going out at night. In Germany we are a lot stricter with ourselves. We are very stressed when a test is coming up and we absolutely want a high grade. The Dutch students are already satisfied with a mere sufficient grade. I feel welcome in the Netherlands. For example, I play volleyball at Windesheim with a team that consists primarily of Dutch people. Even so, the trainers and fellow players give instructions in Engels, they adjust.
Martin Lüneburg (21) from Germany
First years Global Project & Change Management.
'Everything's about Het Vliegende Paard'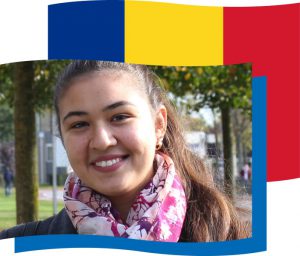 You really need to do something about the school schedules! Instead of spreading classed all over the week you should plan everything on just two or three days. The majority of my class is Dutch so I get to know Dutch people. They are very friendly, they always help me with translating during classes. I didn't want to study in a city too big because you won't experience the true Dutch life that way. In Amsterdam, for example, everything's about tourism. I think I can adjust here quicker. I think Zwolle is a great city, even better than Groningen. Although the nightlife is busier there, Zwolle is a more beautiful city with a lot more water everywhere. I do think that there should be more student cafes here, right now everything's about Het Vliegende Paard (The Flying Horse).
Catlina Fratila (21) from Romania
Exchange student International Business
'There are few distractions in Zwolle'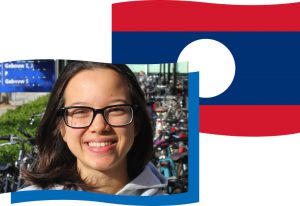 In the Netherlands people are a lot more individualistic than in Laos. In Laos people are more attached to their family, here the youth makes choices separately from their parents. That isn't bad per se. Next to that, life in Laos is more relaxed than in the Netherlands, back home everyone does everything at their own pace. For me Zwolle is a good place to study, there aren't as many distractions as in places like Amsterdam. Zwolle feels more like a big village than a city, and I like that. Another advantage is that you don't have to go far to enjoy nature, you can reach the green environment from the city centre in little time. I would like to have more of a mix between Dutch and foreign students here. At university we work in mixed groups but where I'm living now that's not the case. My friend and one of my best friends are Dutch, but the rest are all foreign.
Lisa Alouny (19) from Laos
First years Global Project & Change Management
'Dutch people always try to speak English'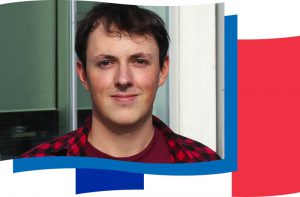 Through an e-mail, which every exchange student received, I could 'reserve' a room to live in. I didn't have to look for one by myself! Unfortunately, there is no shared living room on my floor, but everyone leaves the door open, you can enter whenever you want. In our building live none or next to no Dutch people. Fortunately, the majority of the students in my study program are Dutch and I'm friends with some of them. In my spare time I often hang out with a group of foreign students. We also go on trips, for example to Amsterdam or Giethoorn. With SUN we also go on activities, like going out at night. Everyone here has a bicycle, that is different in France. The people here are also very friendly. If I need help with something, they always help out. Even when they can't speak English very well, they still try.
Stéphane Landwirlin (22) from France
Exchange student Mechanical Engineering
'Where my bed is, is my home'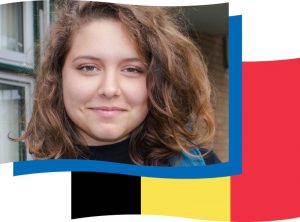 I live in the Hive, close to Windesheim, and I like it. Mostly German, Dutch, and Belgian students live there. In The Hive it is easy to see each other and be connected. We often eat together and on Thursday evening we often go out. We also go to the gym together and to Salsa classes. In terms of going out? Het Vliegende Paard was fun when we just arrived here but now it's more of the same thing every time. I prefer house parties and I'm looking for other clubs or pubs to go to sometime. I have lived in different places all over the world and I have to say that the people here live quite relaxed. Yes, you quickly feel familiar with the Zwolle environment. I don't feel like a small fish in the big ocean here. If you have lived in multiple places you feel less connected. Where my bed is, is my home. We are lucky that Windesheim facilitates or housing. Many universities don't do that.
Lisalena Horvath (18) from Belgium
First years Global Project and Change management
'No one gets excluded'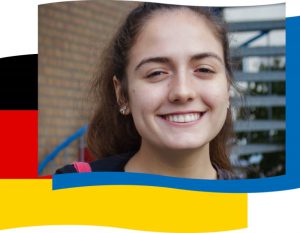 How I found out about Zwolle? I read an article on a German website that talked about 'The secret beauties of the Netherlands'. Zwolle was amongst them and I thought: 'That doesn't sound bad!' Then I started visiting Zwolle right away. Zwolle is not a very big city, but you can find everything your heart desires there. And am I a real Zwollenaar? I'm officially registered as a citizen of Zwolle so, yeah haha. It feels like home. I live in The Hive together with Liselena, it's so much fun, I love it! Everyone is always together. I could really call it a community. People like to come together to hang out. The guys watch football, the girls watch movies, we often go out to pubs in Zwolle and we also have a 'Game of Thrones' group. No one gets excluded here. What I find a pity is that we have to look for another room after this year. Windesheim facilitates the housing for the first year but after that you have to look for one yourself. How that will go? I have no idea!
Daria Luna Laroy (18) from Germany
First years Global Project and Change management
'More foreign students please'
Windesheim does not score high when it comes to the amount of international students compared to other universities of applied sciences and universities of research. In 2018, 262 full-time students with a foreign nationality study at Windesheim, from a total of almost 23,500 students.
Exactly half of them fall under the division Business, Media & Law. That division has two full-time study programs which are given fully in English: Global project & Change management (also known as the WHC) and International Business. Because of the language these study programs are popular with foreign students.
Next to that there are close to a hundred students from abroad who follow a minor this semester and will be studying here for half a year (up to a full year).
Rob Maat from the International Office would like to see more foreign students come to Windesheim. "But there is currently a lot of competition regarding English study programs. In the Netherlands, students can choose between two thousand study programs in English."