What's new at Windesheim? Want to know what's going on? Start following Win'!
Facebook
The most exciting news, great interviews and awesome pictures of events at the campus, which you can find at our Facebook page Hogeschoolkrant Win' –Windesheim. Always fun: the party pictures of student parties and fraternities. Are you in it?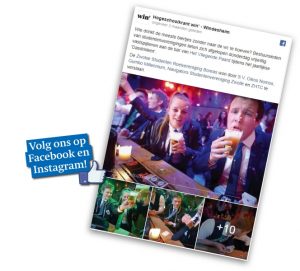 Instagram
Dive into the student life through our pictures and Instagram stories on Krantwin. Have you got a picture or video of campus or the student life, tag us at @krantwin.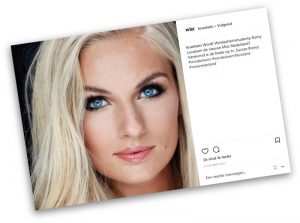 University network Sharenet
Follow the community Win on the university network Sharenet. Through the timeline we bring interesting articles under the attention of our colleagues and students. All messages from previous newspapers can be found there too.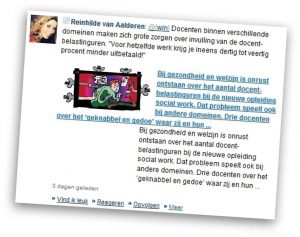 Win'/ the website
Everything about Windesheim, campus, education and student life can be found on the win' website: hogeschoolkrantwin.nl. News, interviews, columns, stories, background articles, where and when the best student parties take place… You name it.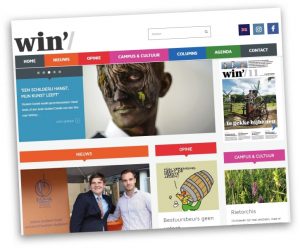 The newspaper Win'
The university newspaper can be found anywhere on campus: in the school cafeterias and at every entrance. Every few weeks a new paper edition is released. Browsing through the paper is a great way to find out what is happening amongst the students and employees.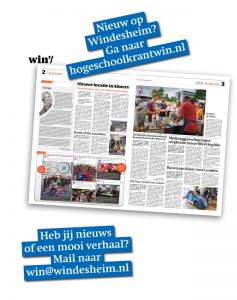 What is win'?
Win' is the news platform and newspaper of Windesheim, made for the students and employees of Windesheim. Win' publishes news, pictures and videos daily through multiple online platforms. At the website www.hogeschoolkrantwin.nl and in the paper edition you can find more news, interviews and headings about education and student life. Win' offers backgrounds, columns and submitted letters that go in depth. For the nightlife agenda you can also check Win', which is full of tips for students.
The editors work through an independent formula. That's how you can be sure that all news is truly about what the students and employees are interested in.
Win' is written mostly in Dutch. But some important news articles, interviews and columns are translated or written in English. Click on the English flag symbol on top of the homepage to read them all.
The team for Win' is located at the campus in Zwolle, in C 1.84. Do you want to share a story or do you have tips, pictures or data to share in the paper? Drop by, mail or send a direct message.
Do you have any news or a good story? Mail to win@windesheim.nl