Windesheim student Jurriaan Peters (24) is in Hong Kong for his study programme Global project & Change management. He is reporting to the Win' about his experiences abroad.
I've finished my exchange semester in Hong Kong! The last five months have been full nice highlights and great experiences, but I am glad that I am able to leave the busy city for more relaxed environment.
A few weeks ago I flew to the Philippines to visit a friend who was doing his Minor in Manilla. I stayed there for a few days and then left to Palawan.
This is a beautiful island on the west of the Philippines. Here I found the 'real' Philippines in Coron, and island to the North of Palawan.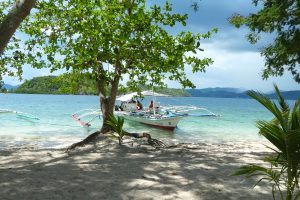 The boat with which we visited islands and beaches
Here we stayed in a place filled with geckos, lizards and other unknown animals to me. Our days filled with visiting remote islands and relaxing on untouched beaches.
After this we went to a place where we could see the sunset over the islands, which was the most incredible sunset I've seen in my life.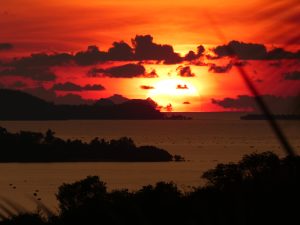 Sunset over Busuanga
The food in the Philippines is very tasty, but after the clean kitchens in Hong Kong, I had a hard time getting used to the food. This resulted in my first food poisoning, which was not the best experience of my trip.
The remarkable thing about the Philippines is that almost everyone speaks English. People are friendly and willing to help. This makes a trip there very enjoyable.
After I was recovered from my food poisoning, we went to Cebu Island, in the central area of the Philippines. On this Island we've been swimming with sea turtles and other awesome marine life.
After staying in places where some tourists come, we went to visit another friend from home who was in the remote Oslob. Here we saw an amazing waterfall, a place where came only Filipinos, who wanted to take pictures together with my friend and I.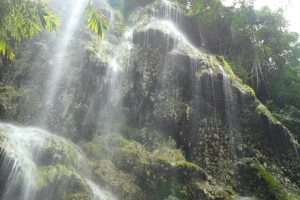 Waterfall in Oslob
In our last days of the Philippines we've visited Bohol, and island near Cebu City. Here we've been able to touch Burmese Pythons and saw the famous Chocolate hills.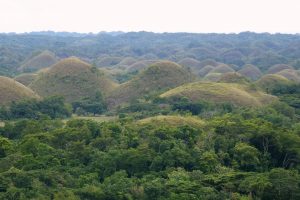 Chocolate hills
By now I arrived in Nepal. I'm writing this column in a hostel in Kathmandu, and I will be leaving to Pokhara to walk the Annapurna circuit in the next coming days. After that I will be travelling until the new semester starts, so far Nepal seems amazing. I'm looking forward to the months to come.