Users temporarily move to D
– The old main buildings of the campus, B and C, will be renovated between 2019 and 2021.
– Project manager Ottenbros: 'No outstanding change, but matching with the other buildings.'
The renovation will be similar to the one in the A building, but on a much larger scale, because the surface area of the B and C buildings is as big as the X-building: 18,000 square meter.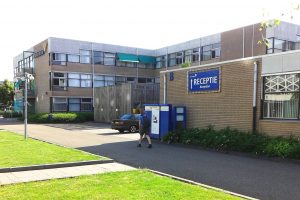 In the B and C buildings, the study programmes of the divisions of Business, Media and Law, Health Care and Social Work and the pabo (Teacher Education in Primary Schools) are located, among others, but also the media centre and the campus store. Only the entrance building, which was built ten years ago in front of C, will remain untouched.
During the renovation, the users of the B and C buildings will, in phases, get temporary housing in the D building. What the final result will look like is currently still unclear. Probably, like with A's renovation, there will be new roofs and a new façade on the old walls, says Fabio Ottenbros, project manager of the design team. Earlier was decided that the isolation and climate control installation of the thirty year old buildings had to be tackled. "On the A-building, the climate control installation is on the roof and the airshafts go to the different floors via the frontage. This works well, so we will likely do the same thing here."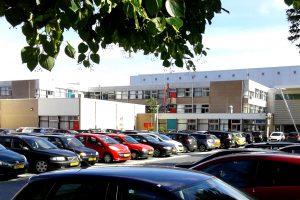 The architect bureau LIAG in The Hague was assigned this project. One of the demands is that the building will have to be done circular as much as possible. This means that mostly existing and environmentally friendly materials will be used.
Another thing that will be addressed is the roof of the canteen, so that the surrounding classrooms will have a view over the canteen. The inside of the buildings will undergo a limited facelift and the outside of the new B/C will have a face of its own. "Not too outstanding, but matching the other buildings on the campus nicely", says Ottenbros.
The renovation will start after the summer of 2019 and will continue until spring 2021. The old D building will be used as a temporary location and has to be cleared before then. The study programmes of BML, which are in D currently, will leave to the X-building, at the latest in the fall. In 2019, the Windesheim Honours College and the Testing centre from D will move as well. Around the fall break of 2019, the first working and schooling stations from B and C can have a temporary housing in D.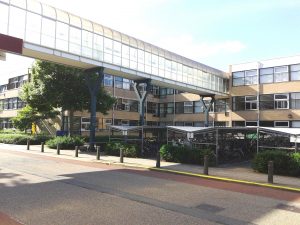 The first drawings and provisional design for the renovation of B and C will be finished in a few months, coming spring it will be clear which contractor will do the job.