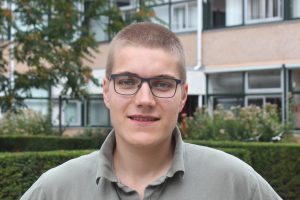 Windesheim student Jurriaan Peters (23) is in Hong Kong for his study programme Global project & change management. He is reporting to the win' about his experiences abroad.
The last three weeks have been a rollercoaster of impulsive decisions, difficult language barriers and unknown food choices.
I am in Hong Kong for my elective abroad studying at the Hong Kong Baptist University school of Business. And to be honest, it starts to feel more and more like a second home. The thing I had to get most accustomed to has been the local food. While in the Netherlands I am happy with some toast and peanut butter for breakfast, here in Hong Kong it is an odd day if I don't eat spicy noodles for breakfast, lunch and dinner… They are tasty, yet strangely different from food back in Zwolle.
Another thing that I had to get used to, especially after my two months in Uganda, is that Hong Kong is never, ever silent. No matter the time of the day the streets will be busy with traffic and the walkways filled with people. I haven't even started mentioning the MTR (Mass Transit Railway) stations, where a fully packed metro comes in every two minutes.
To escape some of the busy city life, I'm hiking with friends made at my exchange semester over here. This is one of the only ways to get yourself out of the busy city life and into the nature, which is surprisingly close by for a city this size.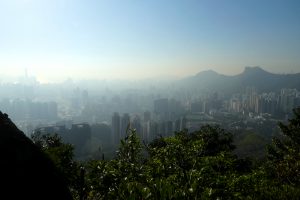 During my first weeks I have done some very intense hiking, from which you have an amazing view over Hong Kong. Sadly enough the smog also becomes more and more visible the higher up you go.
On Monday the 22nd of January I visited the Volvo Ocean Race basecamp in Hong Kong. It seemed a very foggy day. Although the race was a great experience, it was the first time that I could feel my throat feeling very badly because of the pollution. The picture taken of the Volvo Ocean race boats clearly shows the fog, it was supposed to be an almost clear day.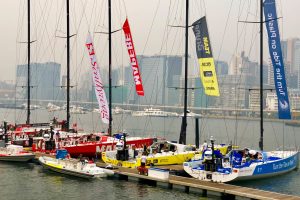 We didn't think too much of it, but later that day a friend told me that it was the day with the worst pollution in Hong Kong in a long time, even five times worse than Beijing. I guess, these are the downsides when living in a city of this size.
I'm writing this column from the plane on my way to Cambodia. The great thing about living in a big metropolean hub is that last minute plane tickets to neighboring countries are relatively cheap. So I'm going on a small holiday during my university semester, exchanging the smoggy air for some clear ocean water.